Suddenly my computer monitor
                                    glows in pink light.
I turn to the window, see a
                                    sky straight out of a
Turner landscape—run out the front door
                                    in purple bathrobe and bare
feet to feast eyes on glory—
                                    eucalyptus at road's end
ablaze with an aura of gold that
                                    Midas would have cherished.
Pink wisps of cirrus darken to cerise,
                                    then shred into the stratosphere
like cotton candy spun out of control.
                                    I breathe deeply, every sense inflamed—
hearing in color, feeling sound,
                                    believing in the power of light.


© by Norma Wightman.
Used with the author's permission.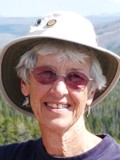 Norma Wightman lives in Morro Bay, California, where she walks the beach daily, leads nature hikes in local state parks, and enjoys yoga, kayaking, and birding around the beautiful central coast. Norma has published chapbooks for family and friends, and her poems have appeared in local publications and art exhibits. She says her inspiration comes from "everyday items."
jamvan:
love 'shred into the stratosphere' - gorgeous poem - I totally identify... thankyou
Posted 04/20/2021 02:32 AM
Lori Levy:
Beautiful image of sunrise.
Posted 04/14/2021 04:32 PM
Jancan:
Lovely, appealing blend of literal and figurative descriptions!
Posted 04/14/2021 10:46 AM
Sharon Waller Knutson:
I love this picturesque visceral poem. The metaphors of Turner's landscapes, Midas gold, pink wisps of Cirrus paint a gorgeous picture of the sky, but my favorite is cotton candy spun out of control. I can see it, taste it, feel it, What a sugary surprise.
Posted 04/14/2021 10:44 AM
michael escoubas:
Ah Yes! Sunrise . . . you take us there--thank you, Norma!
Posted 04/14/2021 09:40 AM
KateTompkins:
Love "cotton candy spun out of control."
Posted 04/14/2021 08:29 AM
wordartdjc:
Just a very lovely poem and one that we can literally see in the mind's eye with the wonderful presentation.
Posted 04/14/2021 07:54 AM
Larry Schug:
It's all about light. We, too, are made of light.
Posted 04/14/2021 07:10 AM