Mindfulness is all the rage now. They say it's good for our health.
Wake up, breathe, pay attention to the moment. When I do,
I fall in love with the red, orange, gold leaves
I pass on my walk through the neighborhood:
L.A.'s loud winter leaves, intense as extroverts.
I fall in love with quiet, too: the chill of morning
when I slip out in my pajamas
to get the newspaper tossed in my driveway.
I could say I'm in love with boring things, too,
like oatmeal, still and bland in its bowl.
In love with this porridge—and how seductive it becomes
when I add chia seeds, cinnamon, and blueberries.

My granddaughters can't wait to see the bunnies
on the way to the park, two of them behind a fence
in a neighbor's yard. We stop to watch them eat carrots,
lettuce, cucumbers, twitching as they stare back at us.
Scampering from here to there, one corner to another.
It's enough for the girls, more than enough.
I'm in love with their smiles, their hi bunnies,
bye bunnies, their giggling love
for these creatures who don't do much more—
one could say—than eat, sleep, twitch, scamper,
which—one could argue—is just what we do.


© by Lori Levy.
Used with the author's permission.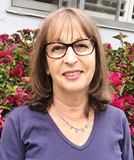 Lori Levy's poems have been published in numerous literary journals and anthologies in the U.S., the U.K., and Israel.  She and her family live in Los Angeles now, but Lori grew up in Vermont and raised her children in Israel.  She enjoys reading, writing, and spending time with family and friends, especially in nature.  Her four grandchildren—soon to be five!--keep her entertained, on her toes and, occasionally, inspire poems.
Adriana:
Totally charming second verse.
Posted 09/21/2021 04:01 PM
Jo:
What a generous poem and and also insightfulwe are just like those bunnies. It made me laugh, Lori. thanks so much for your wonderful words.
Posted 09/18/2021 01:40 PM
Arlene Gay Levine:
This poem made me laugh(not always an easy job) and so did the comments! I also really like the line: "L.A.'s loud winter leaves, intense as extroverts"
Posted 09/18/2021 11:16 AM
paradea:
I like this poem! I can relate!
Posted 09/18/2021 09:59 AM
cork:
I am looking out my window for the bunnies.
Posted 09/18/2021 09:28 AM
KevinArnold:
Oh, no, shes on to me as I eat, sleep, twitch, scamper, about. Fine poem!
Posted 09/18/2021 08:31 AM
Larry Schug:
Not usually a fan of "grandma/grandchildren" poems, I find this poem goes beyond and speaks eloquently about how to live our precious lives.
Posted 09/18/2021 07:53 AM
Rob:
The two stanzas are such an interesting and insightful pairing! So much beauty captured and the last two lines made me laugh! Lovely!
Posted 09/18/2021 07:22 AM