On my Yaya's cross-stitched
embroidered tablecloth
in heaven's kitchen:
the dough breathing
in her round porcelain bowl--
a living thing
offering a vision
of golden forms to come.  


From Marrow of Summer (Kelsay Books, 2021).
Used here with permission.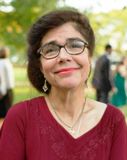 Andrea Potos, who writes in longhand, is a longtime independent bookseller and the author of numerous books; the latest is Marrow of Summer, from Kelsay Books. Andrea loves reading, travel, cafes, and walking beside lakes and on green trails—"of which there are many," she says, in Madison, Wisconsin, where she lives. Andrea's Greek grandparents and their spirit have been an abiding presence and inspiration throughout her life and poetry.
v
Jancan:
Hmmm, I can almost see and smell it!
Posted 09/18/2021 10:42 AM
Lori Levy:
Short, but powerful.
Posted 09/17/2021 05:09 PM
DavidTookey:
Andrea, thank you for sharing this beautiful poem. A moving portrait of calm, wonder and hope!
Posted 09/17/2021 09:26 AM
cork:
I love the brevity and can see the dough breathing.
Posted 09/17/2021 09:15 AM
michael escoubas:
Love the way you bring the world of Nature together with the inner world of man . . . aspirations of that which is to come. And you do so with such grace and humility. Well done, Andrea.
Posted 09/17/2021 08:30 AM