On Dixwell Ave.
Twenty-five cents to the lady
imprisoned in the glassed-in ticket booth
before we entered the theatre already darkened
groping our way down the stairs to the chosen aisle
to folding chairs
that threatened to swallow
small children in their cushioned maws
and before we sat being reminded not to lean
our heads on the seat backs or we might get ringworm.
 
Eyes slowly getting
used to the obliteration of all
things visible and relieved when
someone's head did not obstruct our view
or if not, having to shift from side to side to see.
 
Sticky floors that
lifted our feet right out of our Keds
so we sat cross-legged with a bucket of popcorn
between us and fought for the best of the salty fluid-gold
soaking the last kernels; munching Jujyfruits that stuck in our teeth for hours;
Double Bubble Gum that lost its flavor too soon.
 
At last the dimmed
theatre lights faded to pitch black
and the maroon curtains parted: newsreels,
Tom and Jerry then the MGM magical opening reprise
me already mesmerized, until Dorothy walked through the door
of her sepia-tinted house and landed in Technicolor Munchkinland
 
to find the same beloved house
but under it the Wicked Witch of the East
whose stockinged feet shod in red pointy shoes would,
unknown to me, soon be Dorothy's fateful ruby red slippers.
I remember my gasp, perhaps audible, catching in my throat.
 
I ingloriously left
pushing away the legs in our aisle with the
"Ding-Dong the Witch is Dead" following me as I ran
out into the stark peak of the afternoon sun my eyes squinting
directly up into that glorious glorious burning light
and ever so grateful to return to reality!


© by Carol Amato.
Used here with the author's permission.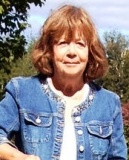 Carol Amato says poetry has allowed her to assume many lives—the earliest being, at age five, ringmaster of the Barnum & Bailey circus and the latest being the spiritual sister of a wolf. In between, she has enjoyed stints as a minor-league baseball player, a gatherer of clouds, and once, slow dancing with the moon. Carol's realities include being a language-learning specialist, a natural science educator, and author of ten books for children (The Young Readers Series published by Barron's Educational Series, Inc.) and Backyard Pets, Nature Activities Close to home, published by John Wiley & Sons) about threatened and endangered animals. Carol, who lives in Massachusetts, considers herself fortunate to have both an active imagination and enough reality to survive.
Terry:
I love all the poetry of Carol Amato. And I also love Carol Amato!!♥
Posted 11/28/2021 12:55 PM
oneterryp:
I'm assuming Strand theater - by that time I was working at the Dixwell theater! Your poem takes me back there! Thank you for re-creating childhood for us!!!!♥
Posted 11/05/2021 11:55 AM
marsha:
Carol and I should have attended this movie together. I made it as far as the flying monkeys, though, before I fled the theater into the bright sunshine with Kristen and asked my father to please pick us up from the Rialto (not the Strand). Great images from my usually beloved theater. Marsha
Posted 11/03/2021 07:03 PM
paradea:
Those were the good ol' days!!! Love this poem!!
Posted 11/03/2021 09:42 AM
Lori Levy:
I feel like Im there with you in that theater when I read this poem.
Posted 11/03/2021 09:16 AM
Michael:
The whole movie-going experience captured in this lovely poem . . . the feelings, the mood, taste, odors, even the "squint" of the eyes as kids emerged from the darkened womb of the theater . . . all there . . . nice transport back to a time never-to-be-ours again.
Posted 11/03/2021 08:35 AM
Sharon Waller Knutson:
I love this descriptive nostalgia poem. I too remember watching movies in folding seats "that threatened to swallow small children in their cushioned maws,"" sticky floors that lift our feet out of our Keds," sitting "cross-legged with a bucket of popcorn" between my knees," "the marooon curtains parting newsreels" and "Tom and Jerry then the MGM magical opening reprise." I also remember watching Judy Garland in Wizard of Oz over and over on TV.
Posted 11/03/2021 07:12 AM
Rob:
The poem makes the theater as scary (ringworm, maws!) and wondrous (fluid-gold!) a place as Oz! And--it's true--the bubble gum flavor never lasted long.
Posted 11/03/2021 05:48 AM