Before the storm there were leaves
On your tree by the window.
After the storm it was bare,
But when night swept the sky,
She hung stars like bright leaves
On the branches.

Or can you take news like this on the chin?
Winterís hereÖ


© by Maryalicia Post.
Used with the authorís permission.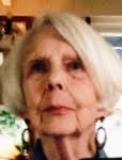 Maryalicia Post grew up in New York City, but has lived most of her life in Dublin, Ireland. She retired this year--at 94--from a 70-year career as a journalist. Primarily a travel writer for the last 30 of those years, Maryalicia also did stints as an advertising copywriter, medical editor, book author, and poet. When she wasn't writing, Maryalicia often made time for cross-country horseback riding. Currently, her website, https://maryaliciapost.com/, archives articles about favorite destinations, ranging (literally!) from the Arctic Circle to Zanzibar.†

paradea:
Lovely!!
Posted 11/12/2021 12:26 PM
Michael:
It' funny how beautiful death can seem, looking at the leaves that have fallen, so peaceful and serene.
Posted 11/12/2021 11:47 AM
Stephen Anderson:
This is a bare, crisp and beautiful rendition of seasons. Well done, Maryalicia!
Posted 11/12/2021 10:15 AM
KateTompkins:
Any day now, but this poem makes me more willing to face it.
Posted 11/12/2021 08:31 AM
Lori Levy:
Love how the stars replace the leaves like bright leaves on the branches.
Posted 11/12/2021 08:23 AM
Larry Schug:
Reality sets in at the end of this poem. Winter ain't for sissies!
Posted 11/12/2021 08:02 AM
Sharon Waller Knutson:
I love this sparse descriptive poem. Favorite line is: But when night swept the sky,She hung stars like bright leaves On the branches.
Posted 11/12/2021 05:26 AM