Frosty-white and cold it lies
Underneath the fretful skies;
Snowflakes flutter where the red
Banners of the poppies spread,
And the drifts are wide and deep
Where the lilies fell asleep.

But the sunsets o'er it throw
Flame-like splendor, lucent glow,
And the moonshine makes it gleam
Like a wonderland of dream,
And the sharp winds all the day
Pipe and whistle shrilly gay.

Safe beneath the snowdrifts lie
Rainbow buds of by-and-by;
In the long, sweet days of spring
Music of bluebells shall ring,
And its faintly golden cup
Many a primrose will hold up.

Though the winds are keen and chill
Roses' hearts are beating still,
And the garden tranquilly
Dreams of happy hours to be.
In the summer days of blue
All its dreamings will come true.


This poem is in the public domain.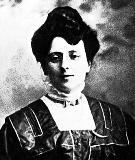 Lucy Maud Montgomery (1874 – 1942) was a Canadian author best known for her novel series, Anne of Green Gables, although she wrote hundreds of poems and short stories, as well. Raised by her grandparents, Maud published her first poem at the age of 16. She earned a teaching certificate and taught school for several years but eventually turned to writing full time while caring, first, for her grandmother and, later, her husband and three sons.
delta:
Darryl Arnold ... clever! -a fitting retort to the master.
Posted 01/08/2022 08:28 AM
Tracers645:
Beautiful!
Posted 01/05/2022 09:51 PM
KevinArnold:
Fun, a great find.
Posted 01/04/2022 01:03 PM
Cathy's Sister:
How nice to see a poem by one of my favorite authors! Love the rhyming and artistic poem of a wintry garden.
Posted 01/04/2022 10:59 AM
Janet Leahy:
The cadence flows with ease in this poem, fun to read it aloud.
Posted 01/04/2022 10:16 AM
Michael:
Like the exquisite couplet rhyming in this poem as well as its subject. We don't often write about how gardens look in winter. Love the "flame-like splendor" referenced in stanza 2.
Posted 01/04/2022 09:05 AM
cork:
I love the rhymes!
Posted 01/04/2022 09:01 AM
Darrell Arnold:
My wife keeps content with her crocheting, embroidering, piecing and quilting during the far-too- long winters, but, come the first hint of spring -- a robin or a crocus-- and her excitement builds, through a crescendo of preparation -- digging, stirring, composting, watering -- toward seeing her gardens of flowers, vegetables, and fruits productive, bountiful, and beautiful once again. Bringing forth new life is essential for her soul. The quilts must wait, patiently, until winter drives her indoors once again.
Posted 01/04/2022 08:18 AM