The years continue, each one the same and different,
spring to summer, summer to fall, fall to winter
and we are swept along, pausing now to admire
a startle of aspens, yellow torches burning
against the pines.Then the season's first snowflakes
drift toward us, melt away. It's a day of white sky
and our shadows have vanished. We're shocked
whenever the winds of calamity knock us, again,
to our knees. We get up and—what choice is there—
go on. Robins return, formal in their red vests.
A child whizzes by on a bike and we remember
being that very child. Not that it was always easy,
even back then. We suffered bee stings. We watched
our parents fail at being perfect. Someone loved us
and someone stopped loving us. The years
continue and turn us into different versions
of ourselves. Just before twilight we look at the sky,
awash in color, clouds catching the late sun.
And then the evening's first star. Days and years
pass through us, or we pass through them.
The days continue, as they will, with us
or without us. Each one the same and different.
We hold on. Something in us doesn't want to disappear.


© by Ginny Lowe Connors.
Used here with the author's permission.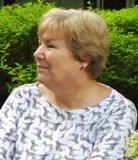 Ginny Lowe Connors is a retired English teacher and the author of four full-length poetry collections, the most recent being Without Goodbyes: From Puritan Deerfield to Mohawk Kahnawake (Turning Point, 2021). Her chapbook, Under the Porch, won the Sunken Garden Poetry Prize, and she has earned numerous awards for individual poems. As publisher of her own press, Grayson Books, Ginny has also edited a number of poetry anthologies, including Forgotten Women: A Tribute in Poetry. She is co-editor of Connecticut River Review. Learn more about her at www.ginnyloweconnors.com.
CamilleBalla:
Days and years pass through us or we pass through them. So many beautiful lines of life, as it is, flow through this poem. Thank you.
Posted 01/06/2022 01:56 PM
Anastasia:
"Just before twilight we look at the sky, awash in color, clouds catching the late sun." This line is so lovely, among all the other lovely phrases in your poem!
Posted 01/05/2022 11:38 PM
deadfrogsailing@gmail.co:
Such a beautiful expression of life. Congratulations.
Posted 01/05/2022 03:40 PM
Lori Levy:
Very moving poem. I agree with the others comments.
Posted 01/05/2022 03:06 PM
clementinesmom:
the first, the thirteenth, and the ninety third
Posted 01/05/2022 02:56 PM
Adriana:
Lovely poem/particularly like "We watched our parents fail at being perfect" and "Someone loved us and someone stopped loving us."
Posted 01/05/2022 02:11 PM
KinVT:
Wow. Very powerful. There are so many moving lines but I particularly loved Days and years move through us Thank you
Posted 01/05/2022 01:12 PM
Arlene Gay Levine:
We all know truth when we read it...also loved the phrase "pausing now to admire a startle of aspens, yellow torches burning against the pines" which speaks to the power and peace of mindfulness.
Posted 01/05/2022 12:04 PM
paradea:
Love this poem!!!
Posted 01/05/2022 10:51 AM
Jancan:
This lovely, expressive poem captures the very essence of time and life--the flow, not always smooth, but oh, how we love it!
Posted 01/05/2022 10:39 AM
KevinArnold:
Wonderful poem. Not sure why, but A child whizzes by on a bike and we remember /being that very child. really got to me.
Posted 01/05/2022 09:53 AM
Manya:
This beautiful piece has inspired me to actually pick up a pen and write down some thoughts..which I never do..amazing!
Posted 01/05/2022 09:34 AM
cork:
I am fascinated by the clarity!
Posted 01/05/2022 09:31 AM
Nabby Dog:
This is such an eloquent and reflective poem. I believe I will be thinking about it all day.
Posted 01/05/2022 08:53 AM
Darrell Arnold:
Many brilliantly phrased observations, here.
Posted 01/05/2022 08:40 AM
KateTompkins:
A lot to think about here.
Posted 01/05/2022 08:37 AM
Rob:
So many beautiful lines and observations!
Posted 01/05/2022 07:41 AM
Larry Schug:
This poem just keeps expanding, as do its readers as they read it.
Posted 01/05/2022 07:33 AM
r1manchester:
This poem should not disappear either. Very well put Ginny!
Posted 01/05/2022 06:38 AM