slate blue night
shimmers over the snow
a moon half-full
not half-empty
drifts from silver-gray shrouds
softening shadows
a butter-colored lamp flickers
someoneís home

© by Yash Seyedbagheri.
Used with the authorís permission.
†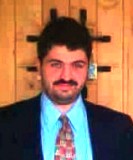 Yash Seyedbagheri is a graduate of Colorado State University's MFA program in fiction. A self-proclaimed Romantic and Tchaikovsky devotee, he lives in Garden Valley, Idaho, and enjoys sunsets, walks, and Coen Brothers movies. Learn more about him†here.
†
†
Anastasia:
This brings back memories from college, of walking home after classes. Thank you for the images and the memories!
Posted 01/12/2022 12:46 PM
wordartdjc:
Yes, I agree with all below..This is a beautiful, mystical treasure!
Posted 01/10/2022 09:13 AM
wordartdjc:
Posted 01/10/2022 09:13 AM
Lori Levy:
Beautiful scene.
Posted 01/09/2022 05:06 PM
KevinArnold:
Colors are intrinsically poetic.
Posted 01/09/2022 11:07 AM
Sharon Waller Knutson:
i love this visual musical poem. Sounds just like a scene I see right out of my window in Idaho right now.
Posted 01/09/2022 10:46 AM
cork:
There is nothing nicer than seeing a warm light in a window from outside on a frosty night.
Posted 01/09/2022 10:25 AM
Jancan:
So beautiful--concise and powerful description
Posted 01/09/2022 09:29 AM
Michael:
Ah! Yes! Let's have a painting. Great post, Jayne.
Posted 01/09/2022 08:40 AM
Rob:
A lovely scene made with lovely language!
Posted 01/09/2022 07:46 AM