Every soul that touches yours –
Be it the slightest contact –
Get there from some good;
Some little grace; one kindly thought;
One aspiration yet unfelt;
One bit of courage
For the darkening sky;
One gleam of faith
To brave the thickening ills of life;
One glimpse of brighter skies –
To make this life worthwhile
And heaven a surer heritage.


This poem is in the public domain.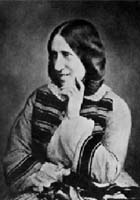 George Eliot (real name: Mary Ann Evans) (1819 - 1880) was well educated and well connected. She first became interested in books at the age of five, when she and her beloved brother Isaac were sent to separate boarding schools. Smart, shy, and well-behaved, Mary Ann was an exemplary student and easily acquired all the education and social graces appropriate for a young woman of her time and standing. Through a social connection, she obtained a position as assistant editor of the Westminster Review, a rather shocking achievement for a woman at that time, and one which allowed her to become acquainted with London's literary crowd. Among that crowd was George Lewes, who encouraged Mary Ann to begin writing fiction in additional to poetry. And write fiction, she did—becoming one of England?s most revered and prolific novelists. (Silas Marner and Middlemarch are her best-known titles.) Though she was a gifted and respected writer, Mary Ann suffered from self doubt and awkwardness in some of her personal relationships; Henry James very bluntly referred to her physical "ugliness," though she was said to have a beautiful speaking voice and be a truly charming woman.

CamilleBalla:
Nice thoughts to look for the good in everyone, not just what is obvious.
Posted 03/05/2022 07:47 PM
Anastasia:
Sometimes, the best thing is a reminder to be more aware of my own behavior to be more kind and patient.
Posted 03/05/2022 02:52 PM
Janet Leahy:
A great poem for today, "One bit of courage for the darkening sky". So many with great courage among the Ukrainian and Polish communities, under "the darkening sky". I did not know George Eliot was Mary Ann Evans thank you for this information.
Posted 03/05/2022 12:12 PM
paradea:
She didn't say it would be easy, but what a credo to 'try' and live by!! Love this poem!!
Posted 03/05/2022 11:35 AM
cork:
"Get there from some good," may be very difficult, but I will try.
Posted 03/05/2022 11:02 AM
Jancan:
Great choice for the day--very inspirational
Posted 03/05/2022 09:05 AM