Treetops dusted white with snow,
Lawns and rooftops too, but
The grip of winter is loosening.
Days are growing longer,
And spring is just around the corner.
Flowering cherries are blooming and
Daffodils are ready to burst into color
In sheltered areas behind the barn
Reviving memories of past springs,
Of March winds, April showers,
Flowers budding, birds returning,
And we look forward to enjoying
Happy times under sunny skies
As spring again enriches our lives.


© by Bob Kimberly.
Used here with the authorís permission.

†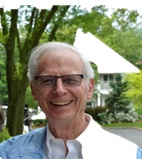 Bob Kimberly's love for poetry started while he was growing up in Wisconsin and was nurtured during his schooling in North Carolina and Massachusetts. After graduating and a tour with the Coast Guard, Bob's work took him to Arizona and eventually to the Pacific Northwest, where he and his wife had a horse farm. After retiring, Bob joined a creative writing class and got serious about writing poetry. He has since published four collections, numerous chapbooks used as Christmas presents for family and friends, and has had poems published in a variety of journals.
†
†
†
Anastasia:
The first blooms of early spring are such wonderful promises!
Posted 03/07/2022 03:47 PM
VodVonDetta:
Love is alive! Wake up now, its a lovely new day.
Posted 03/07/2022 09:37 AM
ilovgemi:
I went outside today and I could smell spring in the air - a smell I surely needed and dearly missed his winter!
Posted 03/06/2022 06:13 PM
cork:
Snow is falling here today, and the deer are wandering around the house. March snows are beautiful.
Posted 03/06/2022 10:28 AM
Michael:
Great way to begin a Sunday morning, Bob. How the seasons inform our lives and transport us from lethargy to springtime energies. Nice piece of work.
Posted 03/06/2022 08:49 AM