In early spring
a weathered, silver log
serves as a sofa for me —
and Mary — listening

to each and every note chirped and trilled
by every red-winged blackbird, ringing out
like a soloist in a coveted part
in a symphony of swelling melodies
offered up by the Earth, as balm

for winter-battered souls. Today
the waves shuffle in quietly, spread
their shimmering blanket of salty kisses
over the smooth, silver sand:

each gentle ripple approaches
and —— pulls —— away
not unlike the air in my lungs,
coming and going
over and over again

and the receiving shore —— waits
for each and any child to come along,
to turn over its sticks and marbled stones
in search of those scurrying crabs
and camouflaged catfish
and bouquet-like anemones
all teaching such wondrous things
— lessons set aside in adulthood.

But when a breeze brushes by
like a whipped-up mini dervish,
to settle among the silvery grasses
they, in turn, wave goodbye
and the kingfisher's crackled cackling
follows us far
into the woods. Back in town —

each and every bird belts out its song
in desperation, soloists overwhelmed
in an outrageous symphony of lawn mowers
and leaf blowers and all the other
nuisance sounds of so-called progress —

the day finally folds in on itself and hushes
and Mary Oliver whispers,
Keep loving this world.*

*Mary Oliver's poem, "To Begin With, The Sweet Grass,"
ends with the words, "Then, love the world.")


© by Jana Kalina.
Used here with the author's permission.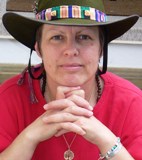 Jana Kalina lives with her husband on Vancouver Island, on the west coast of Turtle Island in British Columbia. A nature lover since toddlerhood, she's had the privilege of living on three very different continents thus far, enjoying the fact that each has its own unique geography, history, flora, and fauna. Says Jana, "When all else fails, nature's restorative embrace and expansiveness are my solace and joy. And poetry? Simply icing on the cake!"
Lori Levy:
Beautiful language. Love all the silver in this poem.
Posted 03/31/2022 12:54 PM
Anastasia:
I love everything about this poemthe word choices, the images, the feelings. Thank you, Jana and Jayne!
Posted 03/31/2022 12:33 PM
paradea:
Great line breaks. I like this poem!!!
Posted 03/31/2022 12:27 PM
cork:
Crackled cackling is a sound explosion!
Posted 03/31/2022 09:05 AM
Michael:
Nicely done, Jana. You have that special ability of inviting fortunate readers to walk along with you and Mary . . . arm around the poetic shoulder, so to speak.
Posted 03/31/2022 09:04 AM
Larry Schug:
This poem has the magic ingredient--texture. I can feel it touching me with gentle, loving hands and warming my spirit. Damn the leaf blowers and bless the whispers. Back at ya, Jana!
Posted 03/31/2022 07:57 AM