Walruses mesmerized by accordionist
in the middle of Arctic Ocean.


† † † † † † † † † † † † † † † † † † † † † † † † †

~

YouTube
†
Seated at the starboard rail,
the Russian sailor
starts to play a mournful air,
perhaps a favorite of his grandmotherís.
†
Buoyant, walruses gather
to scrum like an audience
at a packed performance finding seats.
Then they grunt
and look around to see whoís here.
You see the same behavior in New York.
Some butt in for a better view
despite the empty bleachers
of a massive Barents Sea,
its proscenium of mist
hung along a distant snowless scarp.
†
The sailor switches to a new tune,
a romantic waltz.
The walruses jostle in to hear.
They need not know the gliding dance,
the light placement of the hand
about the waist, the background
swirling past a partnerís face,
struck as they are by the rhythms
of a novel mating call.


© by Eric Forsbergh.
Used with the authorís permission.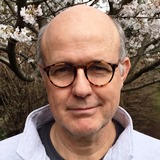 Eric Forsbergh retired from a career in dentistry in 2020, but then volunteered to be a Covid vaccinator for Loudoun County, Virginia. He has participated in dental mission trips to Guatemala and Appalachia and currently attends seminary with an emphasis on helping the poor. A Vietnam veteran, Eric is the author of one book, Imagine Morning, and has published more than fifty poems in various venues. When not writing or studying, he enjoys spending time with his two grandsons at his home in Virginia.
Anastasia:
Such a wonderful moment, capture so well in words!
Posted 04/07/2022 12:11 PM
Lori Levy:
I like this unique portrayal of walruses attending a concert in the sea.
Posted 04/06/2022 02:16 PM
Sharon Waller Knutson:
i loved this descriptive uplifting enlightening poem. I love animal videos. It's amazing how animals respond to music.
Posted 04/06/2022 01:20 PM
Jo:
Reading your poem brought happiness. Out at sea, music, walrusesand then the deeper meaning too. Marvelous
Posted 04/06/2022 01:11 PM
Jancan:
Vividly descriptive, charming poem!
Posted 04/06/2022 10:34 AM
cscoville:
Despite everything, the world remains a bid, wonderful, and awe-inspiring place.
Posted 04/06/2022 10:28 AM
cork:
The proscenium of mist encompasses me.
Posted 04/06/2022 09:22 AM
Michael:
Thank you Eric, for this unique and insightful poem. Well done.
Posted 04/06/2022 08:11 AM
Larry Schug:
Imagination! YAAAAY!
Posted 04/06/2022 07:53 AM
paula:
Remarkable!
Posted 04/06/2022 05:42 AM