This morning
before sun could assert itself
above the horizon,
I heard rain pelt our roof
and windows
like a small boy tossing
pebbles.
Once out of bed,
coffee in hand,
I peered
out the back window
as light struggled to
free itself from the
tangle of clouds and mist
much as I had just minutes
earlier, struggled to
free myself from sheets
and blankets. So I raised
my cup, saluted sun,
a partner in the effort
to banish the damp spirit
of a rainy day.


© by Joan Leotta.
Used with the authorís permission.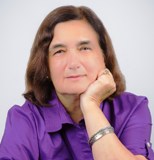 Joan Leotta lives in Calabash, North Carolina. A writer and story performer, her work is widely published and she is the author of ten books. A new chapbook, Feathers on Stone, is due out from Main Street Rag by the end of this year. On stage, Joan tells stories of food, family, and strong women. Learn more about her at www.joanleotta.wordpress.com.
JWYATT:
Nice work, Joan. Who can not relate to having morning coffee on cold rainy days? I have a coffee mug collection. My first thought in the morning is, which mug shall I use today? I make my coffee, pour in my allotted amount of half and half and greet the new day.
Posted 04/21/2022 07:42 AM
CamilleBalla:
Like this with its comparisonsand the coffee, too!
Posted 04/15/2022 04:10 PM
joan:
Thank you all for these wonderful comments! I am truly humbled and glad I was able to bring joy to your day--Sharon, Wilda, Arlene, and others--you are such lovely wordsmiths, poets, that I am doubly humbled by your praise
Posted 04/12/2022 12:49 PM
Anastasia:
This was yesterday morning, exactly!
Posted 04/12/2022 12:39 PM
Janet Leahy:
Love the word "banish" here "to banish the damp spirit of a rainy day."
Posted 04/11/2022 03:25 PM
Arlene Gay Levine:
Beautiful images, Joan. I especially like:" rain pelt our roof and windows like a small boy tossing pebbles" and "light struggled to free itself from the tangle of clouds and mist"...
Posted 04/11/2022 01:48 PM
Lori Levy:
Perfectly captures the comfort of coffee on a rainy day.
Posted 04/11/2022 01:05 PM
cork:
I often watch the sun's struggle to break free in the morning, but never compared it to my own struggle.
Posted 04/11/2022 09:30 AM
Michael:
Really like the visuals and sounds in this poem. Thank you, Joan.
Posted 04/11/2022 09:03 AM
NormaB:
This poem says everything I feel on rainy (I dont want to get up) days! Thank you.
Posted 04/11/2022 08:26 AM
Wilda Morris:
After all the rainy days we have had lately (not to mention a little snow thrown in, saluting the sun is a great idea! Thank you, Joan!
Posted 04/11/2022 08:02 AM
Larry Schug:
I agree with Sharon. The essence of this poem is within that line. The acknowledgement of the sun is the acknowledgement of oneself.
Posted 04/11/2022 07:08 AM
Sharon Waller Knutson:
I was so happy to wake up with a poem by one of my favorite poets. It was like a burst of sunshine on a rainy day or a cup of caffeine. My favorite line: "So I raised my cup, saluted sun, a partner in the effort to banish the damp spirit of a rainy day."
Posted 04/11/2022 05:38 AM