Give me your clouds
Your big clouds rising like cakes in the oven
Blue clouds heavy-bottomed, looming
High clouds scratched by wind
Clouds like a sun-bleached spine

I want white clouds billowing up
with a narrow sword-gray cloud
ripping through the middle
Clouds like cotton batting
Clouds like quilts
Wet clouds pulled apart by wind

I want steely clouds, pink clouds,
purple and apricot clouds
Clouds trooping like sheep
across a cool blue April sky
a puffy stray one
left behind by the herd
moving slowly away from the horizon

And I want shy clouds, too
Thin, modest clouds shaped
like a smile its wearer doesnít know is there
Little eyelash clouds
Clouds like silk cocoons
Sheer slips of clouds wisping across
a dragonís eye moon.


From Moraine (Pearl Editions, 2017).
Used here with permission.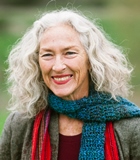 Tamara Madison is a swimmer, dog lover, and retired high school teacher of English and French. Author of a chapbook, The Belly Remembers, and two full length collections of poems, Wild Domestic and Moraine, she lives in Southern California. Learn more about Tamara at tamaramadisonpoetry.com.
Wilda Morris:
What wonderful descriptions of clouds! I wish I had written this!
Posted 04/14/2022 09:16 AM
Lori Levy:
Beautiful portrayal of all different kinds and colors of clouds.
Posted 04/12/2022 03:45 PM
paradea:
Beautiful descriptions of clouds!!
Posted 04/12/2022 02:13 PM
joan:
I love the iages of this poem and the wonderful picture of Tamara!
Posted 04/12/2022 12:47 PM
RonPoems:
wonderful images
Posted 04/12/2022 12:42 PM
Anastasia:
Wonderfully described and engaging! Thank you, Tamara and Jayne!
Posted 04/12/2022 12:35 PM
Michael:
This poem is rife with poetic devices (personification to name but one) strong verbs and nouns that carry the workload of the poem. Wonderful work Tamara.
Posted 04/12/2022 10:33 AM
Sharon Waller Knutson:
I'm a big fan of Tamara Madison. I loved this picturesque poem. The metaphors are unique and surprising. I can see clouds like cakes rising in the oven, a sun bleached spine, little eyelashes, silk cocoons and dragons eye moon.
Posted 04/12/2022 10:08 AM
Lfais:
If you are a cloud lover, I can highly recommend checking out the Cloud Appreciation Society (cloudappreciationsociety.org). Yes, it does exist, and its website and publications are whimsical, big-hearted, scientifically well-informed, and fun.
Posted 04/12/2022 09:49 AM
Janet Leahy:
I love "the purple and apricot clouds" beautiful and fun poem, thanks Tamara.
Posted 04/12/2022 09:22 AM
Darrell Arnold:
I like this. Clouds are magical. I was once able to watch individual clouds gradually form in a clear blue sky. Her clouds of sheep may be the same as my clouds of ships sailing across a blue celestial sea. why to flat-bottomed clouds all appear to float at the same elevation? Fascinating!
Posted 04/12/2022 08:48 AM
paula:
"clouds trooping like sheep" Great line!
Posted 04/12/2022 05:19 AM
Nicholas:
Love this. Very evocative. Bravo!
Posted 04/12/2022 05:07 AM