There will be laundry
in paradise
or wherever you go
exotic or lunatic
high the culture, or low,
rich or poor
there will always
be laundry

Wars ended
peace declared
laundry

Adam and Eve
a fig leaf
laundry


© by Joe Cottonwood.
Used here with the authorís permission.
†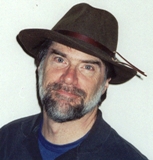 Joe Cottonwood is a semi-retired contractor with a lifetime of small jobs repairing homes. He lives with his high school sweetheart under redwoods in the Santa Cruz Mountains of California, caring for curly-haired dogs and straight-haired grandchildren. Joe's latest book is Random Saints. Learn more about him at www.joecottonwood.com.
bruceniedt:
Truer words were never spoken, Joe. My basement laundry room is more like a factory. Your pithy observations made me LOL.
Posted 04/25/2022 07:37 PM
MLove:
(with permission, of course!)
Posted 04/17/2022 08:59 PM
MLove:
I need to write this on my laundry room wall!
Posted 04/17/2022 08:58 PM
Lori Levy:
Very true,
Posted 04/15/2022 04:04 PM
Michael:
Nicely done, Joe . . . so pragmatic and full of truth!
Posted 04/15/2022 09:25 AM
cork:
Rocks, washboard, ringer washer, May Tag.
Posted 04/15/2022 09:21 AM
Wilda Morris:
The poem is fun. The laundry, less so. LOL
Posted 04/15/2022 08:20 AM
Rob:
Ha ha! Always will be, always has been. Makes me wonder if A and E had a closet full of fig leaves, perhaps some for different occasions. :). Thanks for the early morning laugh.
Posted 04/15/2022 08:06 AM
Sharon Waller Knutson:
It was fitting for me to be first to comment because I am Joe's Number One Fan. I love his repetition of the word "laundry" to make the point that dirty laundry is everywhere you turn.
Posted 04/15/2022 06:22 AM