The year snow fell and stayed
on Easter day
our mother would not be deterred.
She hid the hard-boiled eggs she'd dyed,
right in the snow beneath the trees.
So even though
this wasn't weather she preferred,
she kept her word,
and we happy children
not caring we were wearing boots
held baskets high
and searched for eggs
with mittened hands.


© by Alessandra Foster.
Used with the author's permission.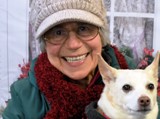 Alessandra Foster is a native New Yorker who has lived in Milwaukee, Wisconsin for the past two decades. A life-long and long-lived reader and writer of poetry, she is a fan of TCM and Hallmark movies, has been a vegan for 40+ years, and is the grateful companion to a sweet-tempered (indoors) chihuahua-terrier named Diamond.
Anastasia:
What fun for all of you!
Posted 04/20/2022 10:50 PM
Lori Levy:
Sweet memory.
Posted 04/16/2022 03:19 PM
Sharon Waller Knutson:
What a sweet story. This mother is like the postman. Neither sleet nor snow will stop her from giving her children the joy of the Easter egg hunt.
Posted 04/16/2022 10:46 AM
Michael:
Lovely Alessandra! Who among us wouldn't go to such lengths for the gift of joy to our much-loved youth?
Posted 04/16/2022 08:27 AM
Rob:
Fun memory, poem, and closing image!
Posted 04/16/2022 07:50 AM