Watching her in the kitchen
as she does dishes at the sink
oldies playing loud on the radio
 
Kate Smith White Cliffs of Dover  
Patti Page Tennessee Waltz  
Doris Day Whatever Will Be Will Be
 
She sings smiles into her sponge microphone
How Much Is That Doggie In The Window  
dressed in her bibbed apron evening gown
swaying with her dashing dishtowel partner
 
Sashaying the linoleum ballroom floor
to big band music Glenn Miller playing
background for At Last with Etta James
 
Twirls while opening drawers cabinet doors
wipes the cupboard counter crooning
Yes Sir That's My Baby by Count Basie  
 
Gives a deep curtsy to her damp string mop
soft shoes to Bye Bye Blackbird exits stage  
right to that place in my heart for Mommy


This poem first appeared in "The Song is..." (January 2017).
Used here with permission.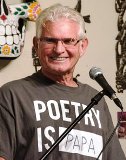 Carl "Papa" Palmer lives in University Place, Washington now, but grew up on Old Mill Road (the name of his latest book) in Ridgeway, Virginia. Retired from the military and the Federal Aviation Administration (FAA), he enjoys being a Franciscan Hospice volunteer and being "Papa" to his grand descendants. Carl is the author of nine chapbooks and his work has been published in more than 200 journals around the world. His motto is "Long Weekends Forever!"
jamvan:
Reminds us how much poetry there is all around us - beautifully observed and lovingly detailed... :)
Posted 05/10/2022 02:53 AM
Lori Levy:
I can see her clearly! Great poem
Posted 05/06/2022 02:05 PM
Ron Stewart:
What a lot of great musical memories. The music of my life. Great poem Papa Thanks.
Posted 05/06/2022 01:29 PM
cscoville:
What wonderful imagery!: "bibbed apron evening gown" and "dashing dishtowel partner".
Posted 05/06/2022 12:41 PM
paradea:
Love this!! Your mom would be thrilled to read your description of her, dancing!!
Posted 05/06/2022 10:25 AM
Janet Leahy:
The music rolls through this poem with ease, stirs memories of the past. And the line "sashaying on the linoleum floor" so perfect!
Posted 05/06/2022 09:51 AM
cork:
I love the kitchen as stage.
Posted 05/06/2022 09:14 AM
Michael:
This totally engaging poetry, Carl! Thank you.
Posted 05/06/2022 08:58 AM
Wilda Morris:
An example of nostalgia at its most engaging!
Posted 05/06/2022 08:39 AM
Darrell Arnold:
Beautiful video in words. I can see her. Nice job.
Posted 05/06/2022 08:36 AM
Sharon Waller Knutson:
I love this picturesque nostalgia poem that reminds me of my own mother who loved to sing as she did housework. Favorite lines: Gives a deep curtsy to her damp string mop soft shoes to Bye Bye Blackbird exits stage right to that place in my heart for Mommy
Posted 05/06/2022 05:42 AM