Among the orchard weeds, from every search,
Snugly and sure, the old hen's nest is made,
Who cackles every morning from her perch
To tell the servant girl new eggs are laid;
Who lays her washing by; and far and near
Goes seeking all about from day to day,
And stung with nettles tramples everywhere;
But still the cackling pullet lays away.
The boy on Sundays goes the stack to pull
In hopes to find her there, but naught is seen,
And takes his hat and thinks to find it full,
She's laid so long so many might have been.
But naught is found and all is given o'er
Till the young brood come chirping to the door.


This poem is in the public domain.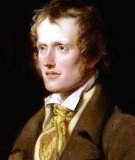 John Clare (1793 - 1864) was born to a poor, working class family in England. His life as an uneducated peasant farmer was one of constant struggle and hardships, yet his poetry is wonderfully inspiring. John was a "poetic environmentalist," in awe of the natural world, and nature is the theme of much of his work. His poetic talent earned him access to London's literary circles, though his inferior social standing kept him from ever truly joining its ranks. Tragically, John spent the last twenty years of his life in a mental asylum, though he continued to write and produce poetry that some critics laud as some of the 19th century's best work. Learn more about John Clare here.
joecot:
Thanks again, Jayne, for bringing more John Clare to our inboxes.
Posted 05/17/2022 12:47 PM
Wilda Morris:
Delightful poem - I can see those chicks come chirping!
Posted 05/17/2022 11:49 AM
Janet Leahy:
Oh how I wish to be a "poetic environmentalist" what a great phrase. Great last line in this poem. Thanks Jayne.
Posted 05/17/2022 09:04 AM
paradea:
Love this poem!!!
Posted 05/17/2022 09:03 AM
Darrell Arnold:
Great Posting, Jayne. I'm searching my anthologies for Clare's work, now.
Posted 05/17/2022 08:29 AM
Michael:
Classic sonnet. Wonderful to behold. Thank you, Jayne, for sharing this delightful poem.
Posted 05/17/2022 08:28 AM
r1manchester:
John Clare struggled all his life with his demons but was able to see the beauty and virtue of chickens, apples, the country roadway. Did he know how accomplished he truly was? Perhaps, but it took his passing and many years before his work was read with the appreciation it deserves. Thanks, Jayne
Posted 05/17/2022 05:12 AM