Sitting on deck,
pink and pale and purple
long shadows dance over verdant, voluptuous hills
phone relegated to its cell
no trucks roaring
no smells of exhaust
only the whisper of wind
trees bending with acrobatic aplomb
country road shimmers
a crescent moon dances
through duskís purple sweat


© by Yash Seyedbagheri.
Used with the authorís permission.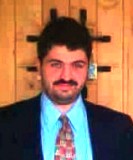 Yash Seyedbagheri is a graduate of Colorado State University's MFA program in fiction. His stories have been nominated for awards and have appeared in a number of publications. A self-proclaimed Romantic and Tchaikovsky devotee, Yash lives in Garden Valley, Idaho where he enjoys sunsets, walks, and Coen Brothers movies. Learn more about him†here.
†
†
jamvan:
simple and powerful imagery. (y)
Posted 05/22/2022 12:45 AM
Lori Levy:
Beautiful scene.
Posted 05/21/2022 05:09 PM
Anastasia:
Such lovely images, and a wonderful moment of calm.
Posted 05/21/2022 12:34 PM
Sharon Waller Knutson:
I love this colorful vibrant poem. There are many unique images to admire: verdant, voluptuous hills, trees bending with acrobatic aplomb, country road shimmers, and a crescent moon dances through dusks purple sweat.
Posted 05/21/2022 11:47 AM
Arlene Gay Levine:
This poem is one deep breath of peace... "a crescent moon dances in dusk's purple sweat" seals the deal. Well done, Yash!
Posted 05/21/2022 11:20 AM
KevinArnold:
Yes, soothing.
Posted 05/21/2022 10:46 AM
Shoshauna Shy:
I've read your fiction - and your poem here is a treat to find!
Posted 05/21/2022 10:34 AM
Wilda Morris:
I like "trees bending with acrobatic aplomb."
Posted 05/21/2022 10:15 AM
Larry Schug:
Life is good, eh? And so is this poem of being where you are and appreciating it. My favorite line is "phone relegated to its cell" while the spirit soars.
Posted 05/21/2022 08:16 AM