One bee bobs
above lavender blossoms,
Hundreds,
Long-stemmed dancers
In morning airs,
Trailing violet scarves
And seducing perfume -
One -
The last refugee
From chemicals meant to kill
All?
The thought chills.
†
But wings flash silver
As a second bee dips
To join her sister.


© by Robert Walton.
Used here with the authorís permission.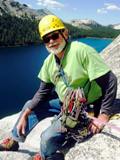 Robert Walton is a retired middle school teacher and a lifelong rock climber with many ascents in the Sierras and Pinnacles National Park. His publishing credits include works of science fiction, fantasy, and poetry. Robert's historical novel, Dawn Drums, won the Tony Hillerman Prize for best fiction in the 2014 New Mexico Book Awards. Most recently, his book, Joaquin's Gold, was published as a paperback and a Kindle eBook. It offers fictional adventures about the famous California bandit, Joaquin Murrieta. Learn more about Robert at http://chaosgatebook.wordpress.com/.
Lori Levy:
Brief, but powerful.
Posted 05/20/2022 09:06 PM
Janet Leahy:
The bees are in my garden and a lavender plant came home with me yesterday.
Posted 05/20/2022 06:49 PM
clifford:
I thought all bees or drones or workers outside the hive were technically "male". I support bee focused charities. cca
Posted 05/20/2022 11:10 AM
KevinArnold:
Great move to the particular.
Posted 05/20/2022 10:01 AM
cork:
I appreciate the honey on my cereal every morning.
Posted 05/20/2022 09:00 AM
Wilda Morris:
A good reminder of our dependence on the work of bees - and how we have decimated their population. Beautiful images.
Posted 05/20/2022 08:57 AM
tiddles:
It's "No Mow" May. Allow the pollinators their due. We can't live without them! MZWindau
Posted 05/20/2022 08:25 AM
Larry Schug:
The thought of crashing bee numbers does, indeed, chill. The message is beautifully presented.
Posted 05/20/2022 07:49 AM