I could have a chicken cam in the coop
           to see who wakes the flock with the first clucks of dawn
           to watch who nudges whom out of the nest box
           to find out how a hen fights her way
                        to the highest point of the roost  
                                   for the night.
 
But it's enough to hear the sounds of waking and imagine
           the fluffing of feather frocks
           the early morning chat
           the strut from roost to nest box
           the dreamy gaze as the egg is laid
           the afternoon tea party  
                       with all the girls sharing tales  
                                  of what they think I am up to.

 
From Authorized Visitors (Cherry Grove Collections, 2017).
Used here with permission.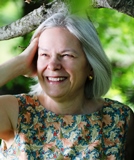 Nancy K. Jentsch calls herself "a second-career poet," having taught German and Spanish at Northern Kentucky University until 2020. She claims to now be "walking through life looking for just the right words, enjoying the thrill of the hunt and the mystery of the power of language." Nancy's poems have been published in various online and print journals and her first collection (Between the Rows, Shanti Arts) is scheduled for release in 2022. Nancy says one of the best compliments she ever received was a friend's comment about one of her poems: "I don't like poetry, but I like this." Learn more about Nancy, who lives in Camp Springs, Kentucky, at https://jentsch8.wixsite.com/my-site.  
pwax:
Congratulations, Jayne! I've loved starting the day with you.
Posted 06/01/2022 05:08 PM
Lori Levy:
I can see this scene. Great ending. And, congratulations, Jayne, on the 13th anniversary of YDP!
Posted 06/01/2022 03:20 PM
KinVT:
Oh, thats lovely! I love poetry & this is a perfect example of why ;)
Posted 06/01/2022 01:39 PM
Shoshauna Shy:
This is a perfect example of a title "doing the heavy lifting"! Kudos, Nancy, on a vividly moving poem ----
Posted 06/01/2022 12:24 PM
Sharon Waller Knutson:
I love this clever, humorous poem because it is so uplifting, musical and cinematic and a perfect example of personification. I cab see and hear the "hen party." It makes me joyful and happy.
Posted 06/01/2022 09:07 AM
Michael:
Yes! The imagination in play. That's it! Thank you, Nancy.
Posted 06/01/2022 09:00 AM
Angela:
delightful!
Posted 06/01/2022 08:55 AM
Larry Schug:
Perfect title. Perfect ending. And perfect every word in between.
Posted 06/01/2022 08:32 AM