Whether bush or creeper
sprawling over ledge,
rosemary blooms
in baby-blues
as the sun steeps in the cup
of the garden by the edge of the road
and the rustle of robins
beneath and in disturbs
enough that fragrance frees.
I know enough to touch
the leaves, to rub, to raise
my fingers to my nub and breathe.
O the dreams of sauce,
the noodles stirred.


© by Jeff Burt.
Used with the author's permission.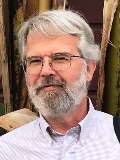 Jeff Burt lives on the Central Coast of California. He claims to have learned, in this last year, of never-ending energy from his grandchildren and perpetual motion opportunities from his Labrador; he is grateful for both. Learn more about Jeff at http://www.jeff-burt.com.
Anastasia:
Growing rosemary is so rewarding, both in enjoying the growth, and then enjoying what is grown!
Posted 06/03/2022 05:41 PM
Lori Levy:
Love the way this flows and where it takes us.
Posted 06/02/2022 01:28 PM
Surprise Reading Teacher:
Beautiful use of elegantly sparse words. Read slowly with all your senses alert.
Posted 06/02/2022 10:41 AM
Michael:
Really like the way you use alliteration and internal rhyme in this poem; congratulations, Jeff.
Posted 06/02/2022 10:33 AM
Otobong Sampson:
Just wow!
Posted 06/02/2022 10:22 AM
KevinArnold:
All the senses stirred.
Posted 06/02/2022 09:45 AM
Janet Leahy:
What a gift, to have "the rustle of robins disturb" the scent of rosemary. I also touch the leaves of rosemary and lavender each morning to breathe in the glorious fragrance.
Posted 06/02/2022 08:39 AM
Larry Schug:
"sun steeps in the cup of the garden" I can see it in this poem that engages all the senses.
Posted 06/02/2022 07:53 AM