Today I saw the sun come up
and everything was hushed.
To me it seemed pure magic
to watch the world appear
as piece by piece it fell in place
all painted by Your brush.
 
 
This poem first appeared in For Every Little Thing: Poems and Prayers to Celebrate the Day (Eerdmans Books, 2021).
Used here with permission.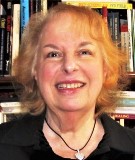 Arlene Gay Levine is an award-winning poet, author, and educator who lives with her husband in New York City. Her prose and poetry have been published in The New York Times, more than 30 anthologies, and in numerous literary journals. Arlene is the author of 39 Ways to Open Your Heart: An Illuminated Meditation (Conari Press,) and Movie Life (Finishing Line Press). Learn more about her at http://www.arlenegaylevine.com.
Jo:
The beauty and simplicity of this poem Is like prayer.
Posted 06/03/2022 11:05 PM
Jancan:
Lovely, moving, reverent piece!
Posted 06/03/2022 10:52 PM
Lori Levy:
I can see the sun coming up the way you described it in this poem.
Posted 06/03/2022 07:34 PM
DavidTookey:
Love the second line.
Posted 06/03/2022 06:22 PM
Wilda Morris:
A beautiful poem with which to start the day! Thank you!
Posted 06/03/2022 09:11 AM
Michael:
Ah yes! Five lines of pure, unfiltered magic. Well done, Arlene.
Posted 06/03/2022 08:21 AM
Sharon Waller Knutson:
I love this sparse picturesque poem. Favorite line: as piece by piece it fell in place
Posted 06/03/2022 07:41 AM