And the rain came down.
Clouds descended onto the trees
Becoming fog among branches
And softening the landscape.
Birds, gathered together, were silent
And flowers drooped under
The weight of the rain.
It was a grey day made dismal
By the ruthless north wind
That forced itself into every
Crack and cranny, soaking anyone
Who dared to venture out.
And yet there was a hidden beauty
In the overwhelming force of nature.


© by Bob Kimberly.
Used here with the authorís permission.
†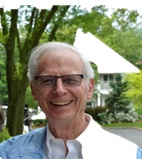 Bob Kimberly lives in Bellevue, Washington where, earlier, he worked for several businesses and ran a horse farm with his wife. Bob loved poetry growing up and in school, but didn't really do any writing until after he retired and joined a creative writing class.Now, although he writes mainly for himself, he has self-published four collections of poems and numerous chapbooks used as Christmas presents for family and friends. His poems have also been published in a variety of journals.
CamilleBalla:
Softening, silence, savoring this beauty. Nice!
Posted 06/11/2022 01:02 PM
Janet Leahy:
I like the way fog softens your landscape in this poem and I love the way you allow us to see the hidden beauty in rain.
Posted 06/10/2022 10:39 PM
Adriana:
The first four lines, so lovely, hint at the positive ending.
Posted 06/10/2022 03:28 PM
Lori Levy:
A rainy day portrayed with beauty.
Posted 06/10/2022 03:04 PM
peggy.turnbull:
This poem reminds me how necessary it is to go into nature, even on a dismal day.
Posted 06/10/2022 02:36 PM
Sharon Waller Knutson:
Nice poem. Send some rain to Arizona. It is 105 degrees here and dry as kindling being burned by forest fires nearby.
Posted 06/10/2022 12:01 PM
DavidTookey:
Calming meditation on a very Northwest event. Well done Bob!
Posted 06/10/2022 11:08 AM
Wilda Morris:
Hidden beauty. Yes!
Posted 06/10/2022 09:14 AM
cork:
The rain in Spain falls gently on the plain.
Posted 06/10/2022 08:52 AM
Michael:
Nicely done, Bob! You placed the reader "in the rain," making palpable its sounds and odors.
Posted 06/10/2022 07:57 AM
Joan Luther:
An overwhelming beauty in the force of nature offers the thought of a rainbow and the leftover raindrops drops gifting prisms to glass windows
Posted 06/10/2022 06:52 AM