Does ennui wake you each morning
and shadow your day
until a fitful respite of sleep?

Try a dose of bright morning sun,
enjoyed during a brisk walk,
followed by a poem
and a cup of fresh coffee.

Upon contact with skin,
flush with the promise
of a new day.

Take a dash of purpose,
to guide your day,
and a touch of goodwill
to share with others.

Apply all this freely,
as needs may warrant
and your day may require,

Side effects may include
hope for the future,
improved judgment,
and a sense of well-being.

Use as directed.
Ask yourself
if a simple life
may be right for you.


From The Funny Thing About a Poem (2019).
Used here with permission.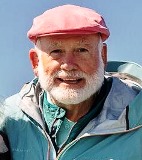 Randy Cadenhead is the author of a number of books of poetry and prose, most recently At Sea, about life on the water, and A Christmas Carol Refrain, which explores the later life of Ebenezer Scrooge. Although he teaches at Emory Law School, you are more likely to find Randy sailing somewhere in search of the perfect sunset. Randy lives in Decatur, Georgia; learn more about him at www.randycadenhead.com.
.
Wilda Morris:
Good advice.
Posted 06/16/2022 12:08 PM
Lori Levy:
Yes, good advice!
Posted 06/11/2022 11:02 PM
paradea:
Great advice!!! Good poem!!
Posted 06/11/2022 02:48 PM
cork:
Optimism!
Posted 06/11/2022 09:34 AM