This country road, in the slow locale of life, seduces
bird calls, sounds of creek flow, flowers that grow wild.
†
This rural route creates a place where peopleís dogs train
visiting cars to slow down. Houses stand far apart, †
often hide from view. No sign leads to the mule field.† †
†
These trees claim a right to live, fall over when life is done.
Roosters call the day. A whippoorwill rules the night.


© by Mary Ricketson.
Used here with the authorís permission.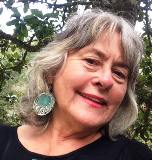 Mary Ricketson lives in Murphy, North Carolina, where she is a mental health counselor and a blueberry farmer. With the Blue Ridge mountains that surround her often inspiring her words, the healing power of nature is a frequent theme. Mary is the author of six collections.
Jancan:
vividly descriptive vision of a delightfully appealing reality
Posted 06/25/2022 06:36 PM
Lori Levy:
Beautiful images, peaceful.
Posted 06/25/2022 03:25 PM
Adriana:
nice combining of form and meaning, the long leisurely lines creating what the meaning is conveying
Posted 06/25/2022 12:12 PM
peggy.turnbull:
My heart rate slowed and I was driving on that country road. Hello, dogs! Hello, old and young trees.
Posted 06/25/2022 11:41 AM
carlpalmer:
You make me homesick, Mary, with this slow locale of life this morning.
Posted 06/25/2022 11:41 AM
Michael:
Wonderful correspondence between two worlds: outer & inner. Nicely done, Mary.
Posted 06/25/2022 11:09 AM
Janet Leahy:
Love the line about trees. "These trees claim a right to live."
Posted 06/25/2022 09:59 AM
KevinArnold:
Ah, quiet.
Posted 06/25/2022 09:38 AM
Shoshauna Shy:
This calmed me. Thank you kindly!
Posted 06/25/2022 09:29 AM
paradea:
And that's the way it is!!! Thank you kindly.
Posted 06/25/2022 08:37 AM
mail@schoolbusmart.com:
Great crisp images peoples dogs train visiting cars to slow down and roosters call the day. This is country. Randy Mazie
Posted 06/25/2022 07:23 AM
Rob:
Sounds idyllic. Love all the imagery, and "No sign leads to the mule field" particularly caught my fancy!
Posted 06/25/2022 05:43 AM