The thrill…

          of fishing is catching the fish.
          of seeing the first star is making the wish.
          of the ending of school is the starting of play.
          of getting the test back is getting an "A."

          of tying shoelaces is getting it right.
          of windy days is flying a kite.
          of playing baseball is winning the game.
          of making a campfire is watching the flame.

          of reading a poem is learning new things.
          of playing checkers is getting kings.
          of wearing a hat is having a head.
          of feeling exhausted is going to bed.


Poem and illustration from Itches Inside My Head (Year of Encouragements Press, 2022).
Used here with permission.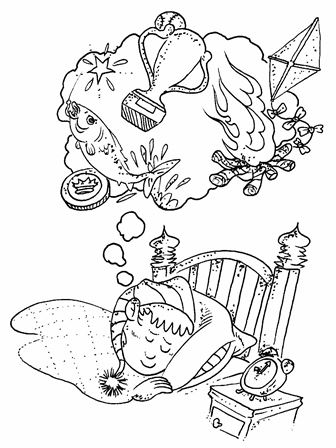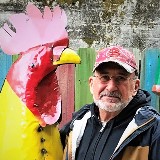 Randy Mazie grew up in New York City, made South Florida his home for many years, and now lives in the North Georgia mountains. He has Master's Degrees in Social Work from Columbia University and Business Administration from Barry University. Randy's non-fiction work has been published in professional journals and his poetry and short stories have appeared in numerous journals and anthologies. Learn more about him at www.ayearofencouragements.com.
jamvan:
what a fun poem - and all about the rewards of life at any age. Right on Randy!
Posted 06/28/2022 03:30 AM
Maren O. Mitchell:
Randy, congrats again! You are one fun puppy! Maren
Posted 06/24/2022 08:47 PM
richard.cary@att.net:
Randy, You are the real deal!!!
Posted 06/24/2022 12:32 PM
Pianogirl:
Love seeing your poetry in print and the success you are having with your writing. Carol Smucker
Posted 06/24/2022 12:11 PM
CamilleBalla:
Nice rhythm, nice thoughts on this ride through your light poem, yet so filled with hope snd gratefulness. Thank you.
Posted 06/24/2022 11:52 AM
Lori Levy:
Catchy, pulls me in.
Posted 06/24/2022 11:09 AM
maryricketson311@hotmail:
Love the feel, the sounds, the thrill of this poem. Mary Ricketson
Posted 06/24/2022 10:17 AM
paradea:
This is great!!!
Posted 06/24/2022 08:58 AM
Darrell Arnold:
This is exactly the kind of RHYMING poetry that ought to be filling children's books everywhere, all the time. Nicely done.
Posted 06/24/2022 08:50 AM
Michael:
Wonderful example of a list poem; a winsome delight. Love your closing line and drawing too. Thank you, Randy!
Posted 06/24/2022 08:35 AM
Joan Luther:
What a thrill to ride the waves of your poem!
Posted 06/24/2022 08:05 AM