Late June afternoon
lickin' lemon gelato —
bird repeats: "Sweet, Sweet!"


© by Jana Kalina.
Used here with the author's permission.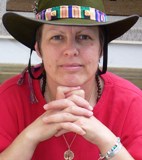 Jana Kalina lives with her husband on Vancouver Island, on the west coast of Turtle Island in British Columbia. A nature lover since toddlerhood, she's had the privilege of living on three very different continents thus far, enjoying the fact that each has its own unique geography, history, flora, and fauna. Says Jana, "When all else fails, nature's restorative embrace and expansiveness are my solace and joy. And poetry? Simply icing on the cake!"
Wilda Morris:
Fun poem! I know that bird song!
Posted 07/03/2022 09:00 AM
Jancan:
Your haiku is delightful!
Posted 06/30/2022 10:41 PM
Lori Levy:
A whole scene comes alive in these 3 short lines.
Posted 06/30/2022 11:21 AM
paradea:
Yep. Birds see us and respond!!!
Posted 06/30/2022 10:23 AM
cork:
Ichiban
Posted 06/30/2022 08:59 AM
mail@schoolbusmart.com:
A coo of sweet to/ a lemony treat means please/ buy cherry next time.//////// Thanks, Randy Mazie/// A Coo Haiku
Posted 06/30/2022 06:58 AM