are bad engineers
tuck sticks
in sloppy piles
ignore my advice
in fact scream at my suggestions
and yet the nest
grows round
somehow cozy
including a red ribbon
found somewhere
a gift from a gift
now woven
among blue eggs
seeming random
yet chosen


© by Joe Cottonwood.
Used here with the authorís permission.
†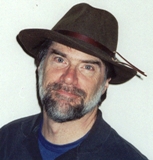 Joe Cottonwood is a semi-retired contractor with a lifetime of small jobs repairing homes. He lives with his high school sweetheart under redwoods in the Santa Cruz Mountains of California, caring for curly-haired dogs and straight-haired grandchildren. Joe's latest book is Random Saints. Learn more about him at www.joecottonwood.com.
jamvan:
so charming :)
Posted 07/19/2022 03:17 AM
Wilda Morris:
A small but excellent poem!
Posted 07/03/2022 09:02 AM
waldo47:
"a gift from a gift" indeed.
Posted 07/01/2022 01:15 PM
Lori Levy:
Beautifully expressed.
Posted 07/01/2022 12:51 PM
KevinArnold:
Yes, and a gift from a gift, too.
Posted 07/01/2022 09:39 AM
Janet Leahy:
My favorite line in this poem, "seeming random, yet chosen." I think humans are also like that, we end up with a plethora of random friends and things, yet we have somehow chosen them to be in our lives
Posted 07/01/2022 09:30 AM
paradea:
Good one!!
Posted 07/01/2022 09:18 AM
Angela:
Left a smile on my face.
Posted 07/01/2022 08:34 AM
bbatcher:
I always enjoy Joe's poems. Great wit.
Posted 07/01/2022 07:08 AM
Sharon Waller Knutson:
I was happy to read a poem by my secret brother and favorite male poet. I love how Joe can create a poem about blue jays, his grandchildren or a stranger with the same skill and care with which he builds houses. I loved the humor and metaphor of blue jays as "bad engineers" and the alliteration in "scream at my suggestions." .
Posted 07/01/2022 05:39 AM