To feel the warmth of dark earth;
at night standing very still to feel
the vibrations of tunneling worms;
especially the chilled black mud
at low tide that oozes deliciously
between their toes.
†
Unsocked,
their feet are never cold
even on un-rugged kitchen tiles
cold as ice in winter
and especially not while escaping
out the then-slammed screen door
into the morningís dewy grass.
Especially not there.
†
Nor do they heed warnings
about splinters
poison ivy
or the possibility of dog-doo.
†
In addition
they are generally impervious to cold
refusing jackets and sweaters
or leaving them open
as we try to project our shivering on them.
†
We,
well-shod in all seasons,
except while swimming;
never having been allowed
in our rigid-ruled stony pasts
to be cold
†
so deprived
of the touching wind on skin
alive with goose-bumps
especially spontaneous joy
and surely, the wonder of
worms.


© by Carol Amato.
Used here with the authorís permission.
†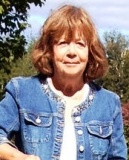 Carol Amato says poetry has allowed her to assume many lives—the earliest being, at age five, ringmaster of the Barnum & Bailey circus and the latest being the spiritual sister of a wolf. In between, she has enjoyed stints as a minor-league baseball player, a gatherer of clouds, and once, slow dancing with the moon. Carol's realities include being a language-learning specialist, a natural science educator, and author of ten books for children (The Young Readers Series published by Barron's Educational Series, Inc.) and Backyard Pets, Nature Activities Close to home, published by John Wiley & Sons) about threatened and endangered animals. Carol, who lives in Massachusetts, considers herself fortunate to have both an active imagination and enough reality to survive.
Veronica welch:
I love it!! Brings back so many memories of growing up in the country!!!
Posted 07/08/2022 10:39 AM
Wilda Morris:
What interesting ideas! Now I hope Carol will write another poem explaining why my grandsons like to go outside in stockings but no shoes!
Posted 07/08/2022 10:01 AM
Lori Levy:
Great! Exactly the way it is for kids.
Posted 07/08/2022 09:09 AM
MLove:
I like the thought of "never having been allowed to be cold" as if it is a privilege to experience discomfort. It is!
Posted 07/08/2022 09:05 AM
Larry Schug:
Bare feet are our natural state, evolved to meet all conditions. Shoes, bah, where did they ever get us? I love poems that open my mind to strange thoughts as does this poem. I think I'll kick off my tennies and go walk in the dewy grass and clover.
Posted 07/08/2022 08:17 AM