In the middle of a summer night, Mighty
Thor threw a temper tantrum.
Far out at sea, flashes of lightning exploded
high above the clouds, blazed in jagged streaks
down toward the water.
Thor was striking flint,
making huge sparks, hurling bolts,
the display so far away the
thunder of his angry voice barely audible.
His tantrum persisted for hours.
I sat outside, wrapped in a blanket,
mesmerized.


© by Juliane McAdam.
Used with the author's permission.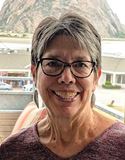 Juliane McAdam is a California native who grew up in the stark beauty of the Mojave Desert. After college graduation, she completed a graduate school program training teachers for disadvantaged areas. Juliane began her teaching career in South Los Angeles in a bilingual program. For the last 27 years of her career she taught English and Spanish to middle school students in Los Angeles, writing poems with them. Now retired and living near Morro Bay on California's beautiful Central Coast, Juliane enjoys walks, kayaking, playing piano, and writing poems to record observations and memories.
Wilda Morris:
I enjoyed sitting on the front porch watching dry lightening in the distance when I was a child. I heard that thunder happened when a cart of potatoes up in heaven accidentally tipped over! There must be a lot of old tales about thunder!
Posted 07/11/2022 10:52 PM
Lori Levy:
Great portrayal of a thunderstorm.
Posted 07/09/2022 02:38 PM
cork:
"Thor was striking flint" is and impressive image.
Posted 07/09/2022 09:21 AM
Darrell Arnold:
I watched many thunderstorms, most with rain, in Southern Colorado. They passed over me, slowly, and then made a noisy trip out onto the eastern plains. Hours of incredible and impressive entertainment. There's an old cowboy song that refers to lightning in this way: The Devil Beats His Wife With a Silver Chain.
Posted 07/09/2022 08:23 AM
peggy.turnbull:
It's a real summer treat to watch a thunderstorm over water from a distance. Juliane, you captured the powerful magic of it in this poem.Thank you for bringing me there.
Posted 07/09/2022 07:18 AM