When underneath the brown dead grass
My weary bones are laid,
I hope I shall not see the glass
At ninety in the shade.
I trust indeed that, when I lie
Beneath the churchyard pine,
I shall not hear that startling cry—
"Thermom is ninety-nine!"

Far better in the sod to lie,
With pasturing pig above,
Than broil beneath a copper sky
In sight of all I love!
Far better to be turned to grass
To feed the poley cow,
Than be the half boiled bream, alas,
That I am really now!

For cow and pig I would not hear,
And hoof I would not see;
But if these items did appear
They wouldn't trouble me.
For ah! the pelt of mortal man
Weighs less than half a ton,
And any sight is better than
A sultry southern sun.


This poem is in the public domain.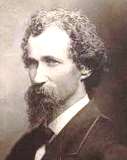 Thomas Henry Kendall, also known as Henry Clarence Kendall (1839 – 1882) was born in New South Wales, Australia. Formal education was brief; Henry took to the sea with his uncle when he was only 15. In the years afterwards, he worked in various government positions, struggling throughout his life with alcohol and poverty. Despite that, he achieved significant acclaim as a writer, befriending leading authors of his day and publishing several books. Considered, at one point, Australia's finest poet, there are several schools, streets, and parks in that country named in Henry's honor.
Wilda Morris:
We have had some sultry northern sun lately! Thanks for sharing this.
Posted 07/23/2022 12:38 PM
jamvan:
I totally sympathise - being fairskinned and Australian!!!
Posted 07/18/2022 02:26 AM
Darrell Arnold:
I like all of these comments. I, too, am a big fan of the 19th century poets. They had plenty of time on their hands, living without television and the internet, to write, re-write, hone and polish, until everything was as near perfect as they could make it. And humor, of course, is always appreciated, even about morbid subjects.
Posted 07/17/2022 11:18 AM
PAW:
Loved the flow and imagery. Had never read this one before. Thx Jayne.
Posted 07/17/2022 09:16 AM
KevinArnold:
Not intentionally ghoulish, the poem could still creep a reader out in thoughts of mortal remains. Not easily forgotten.
Posted 07/17/2022 08:56 AM
Michael:
I always marvel at the rhyming skill of the 19th century poets. Nice selection for the season.
Posted 07/17/2022 08:54 AM
Larry Schug:
Well chosen summer poem, Jayne. It's certainly an odd perspective, but that's what makes poetry fun and thought-provoking.
Posted 07/17/2022 06:50 AM