It's amazing I'm still here.
I grew up without most things
considered necessities today--
Cell phones, computers,
TVs, microwaves, and
AIR CONDITIONING!

The great outdoors was mine.
I jumped wildly through
the spinning sprinkler.
Lightening bugs flashed at dusk.
I rushed to catch them,
Making bug jelly jar lamps.

I don't remember
"Suffering from the heat."
I vividly recall our first
window air conditioner;
It was in my parents' bedroom,
creating a kind of meat locker.
I'd rush in there to cool off,
Dashing quickly outside again.

When houses got central air,
That was it!
Everyone remained inside
in a semi frozen state,
Much like soft ice cream,
Sucked into the
flickering monster TV,
It filled the room,
It filled our lives.
Air conditioning.
What a blessing!
What a curse!


© by Jane H. Fitzgerald.
Used with the author's permission.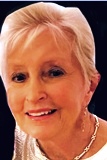 Jane H. Fitzgerald lives in Jupiter, Florida. A retired middle school history teacher, she's a big believer in experiential learning and once developed a hands-on, role-playing curriculum for the American Colonial period. Jane loves interacting with children but has also taught English to adult Hispanic immigrants. The author of four books of poetry, her work has been featured in numerous journals.
Wilda Morris:
Yes, a blessing and a curse. As is all technology, I suspect. I remember sitting out on the porch in the evening, singing together, watching dry lightening off to the south, playing with my sister. And of course chasing lightning bugs. TV and air conditioning combined to move most evening life indoors.
Posted 07/23/2022 12:40 PM
Lori Levy:
Great last stanza.
Posted 07/16/2022 07:42 PM
Darrell Arnold:
Perceptive concept brilliantly presented.
Posted 07/16/2022 09:19 AM
jentsch:
Amen! We still don't have central air and do just fine. I don't like being closed in rooms/buildings at all. And you are so right - it has subtly affected our social interactions.
Posted 07/16/2022 09:13 AM
Larry Schug:
Cool! I especially liked the last stanza
Posted 07/16/2022 09:11 AM
Joan Luther:
Ah, a walk down memory lane without AC: wed open windows at night, quickly closing them at sunrise. Theres nothing like fresh words to solidify a breath of fresh air.
Posted 07/16/2022 08:29 AM
Rob:
Great capturing of the joys of pre-ac life and the good/bad changes that accompanied the arrival of artificial coolness!
Posted 07/16/2022 06:37 AM