For the Oak Ridge Boys
Picture finding in your garden
what must be the biggest
Beefsteak in the whole county —
then three more just like it.
What those four tomatoes
would do for the kitchen sill,
these guys could do with any song.

Their voices fit together
like a person walking —
one, the stride; another, arms swinging;
the third, deep breaths;
the fourth, eyes blinking.

Yesterday I vinyled one of their old,
old hits. My wife rushed in,
and my waist became a groove
for her arm. In that moment,
we were seamless as their music,
seamless as a tomato,
not too hard, not too soft.


This poem first appeared in The Round Table Journal (1985).
Used here with permission.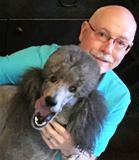 David Henson is the author of two chapbooks and his award-winning work has appeared in a variety of online and print journals. In addition to writing, David enjoys playing classical and boogie woogie piano. David and his wife have lived in Belgium and Hong Kong over the years, but now live in Peoria, Illinois, where they enjoy walking with their dog. Learn more about David at http://writings217.wordpress.com.
David:
Thanks so much to all of you who commented!
Posted 07/25/2022 08:09 AM
Wilda Morris:
Clever poem!
Posted 07/23/2022 12:34 PM
Jancan:
Excellent, entertaining tribute to the great Oak Ridge Boys. SO creative!
Posted 07/19/2022 12:52 PM
Sharon Waller Knutson:
I love the oak Ridge Boys, Beefsteak tomatoes, dancing to Vinyls and this poem. Favorite stanza: Their voices fit together like a person walking one, the stride; another, arms swinging; the third, deep breaths; the fourth, eyes blinking.
Posted 07/19/2022 12:06 PM
Lori Levy:
Unusual and beautiful!
Posted 07/19/2022 10:44 AM
paradea:
Great!!!
Posted 07/19/2022 09:20 AM
cork:
"Vinyled" shows how an adjective becomes a verb, and that is creative.
Posted 07/19/2022 09:08 AM
Larry Schug:
A tomato, an old band and a long-loving couple walked into a poet's imagination... Good work.
Posted 07/19/2022 07:53 AM
KevinArnold:
A poodle guy with a killer last line. Like it!
Posted 07/19/2022 07:06 AM