July tomatoes  
from the vine

to my daughter's
dinner plate.

But I don't like vegetables,
she pouts.

They are a fruit,
I insist.

Ohhh, right…
I see the light brighten in her eyes.
Cherry tomatoes.


© by Kelly Sargent.
Used here with the author's permission.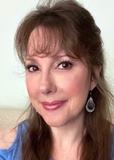 Kelly Sargent is a widely published writer and artist living in Vermont. Born a twin—she, hard of hearing and her sister, completely deaf—Kelly's poetry chapbook, Seeing Voices: Poetry in Motion (Kelsay Books, 2022) is based on her experiences growing up as a twin and hearing-impaired. Her book, Lilacs & Teacups (Cyberwit, 2022), is a collection of modern haiku. Kelly is the creative nonfiction editor of The Bookends Review and also reviews for an organization that supports the artistic expression of sexual violence survivors. Learn more about her at www.kellysargent.com.
Wilda Morris:
Yep!
Posted 07/23/2022 12:33 PM
jentsch:
Charming! I'm going to enjoy my cherry tomatoes this evening even more than usual!
Posted 07/20/2022 05:54 PM
kelsargent36:
Thank you, all, for your kind comments! To cork: You can look up the sign for tomato at Handspeak.com. The phonological variation is also interesting: Although it's a single sign, the original, old sign was a compound RED+CUT (dominant hand) -CL:ROUND (passive classifier). Sign language is a beautiful language - visual poetry to the eyes!
Posted 07/20/2022 12:34 PM
Joan Luther:
Ah, a mothers wisdom. Very nice poem.
Posted 07/20/2022 11:59 AM
Michael:
Really like this, Kelly.
Posted 07/20/2022 11:39 AM
Lori Levy:
Simply expressed and beautiful.
Posted 07/20/2022 10:14 AM
cork:
I must learn to sign "tomato."
Posted 07/20/2022 09:22 AM
Andy_eh!:
I have just now discovered My Daily Poem. It began with a dear friend quoting a few lines of John Gillespie Magee's poem High Flight. My search on that very young poet's, short life that ended in WW II led me here and - voila! The first poem I read - with delight, is Kelly Sargent's "Sweet Revelation"! I have now bookmarked YDP. Thank you YDP, Kelly Sargent, also my dear friend Kent of 57 years. I was 23 back then,
Posted 07/20/2022 08:42 AM