Glimpses of Big Boys, Celebrities,
Early Girls, Sweet 100s show red
hidden among their leafy greens,
with a supporting cast
of yellow and zucchini squash,
green and orange peppers, and cukes.
Compost and wooden chips hold moisture,
slow down the pace of weeds.
Cages protect the plants, keep critters
from the Nature Center at bay.
Ready for first harvest,
anticipating a bumper first crop.


© by Erle Kelly.
Used with the authorís permission.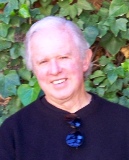 Erle Kelly, whose poetry has been published in a variety of print and online venues, lives in Long Beach, California. Retired from a career in marketing management, Erle tutors at a local elementary school and is active in a local poetry group. He and his wife, Kristine, enjoy traveling, visiting their grandchildren and great grandchildren, and tending their community vegetable garden.
†
†
†
†
peninsulapoet:
Bring me some tomatoes my friend! ❤️❤️
Posted 07/23/2022 12:04 PM
Lori Levy:
Tempting tastes and colors.
Posted 07/22/2022 11:56 AM
cork:
Gardens are small farms.
Posted 07/22/2022 09:16 AM