How do I love thee, tomato? Let me count the ways.
I love thee to the depth and breadth and might
My palate can reach, when remembering out of sight
Your peak month of August, when you bear fruits of juicy Grace.
I love thee to the level of everyday's
Most urgent need for a BLT, by sun or moon-light.
I love thee with abandon, as Venus might her Mars or Vulcan.
I love thee purely, as surely as the summer wanes.
I love thee with the passion of my appetite
Above all fruits, and with my childhood's eye of Jersey tomatoes
As if they were falling from the sky.
I love thee with a hunger I seemed to lose
With my lost innocence (and the icky mealy tomatoes of January)! I love thee with the smell,
Unlike no other in the garden, and your vine-ripened sweetness
That bring me smiles, tears, only at this time of year! -- and if the farmers choose,
I shall but love thee better after many bowls of gazpacho.


This poem first appeared in the "What's Cooking/A Mighty Appetite" column in The Washington Post (August 7, 2006).
Used here with permission.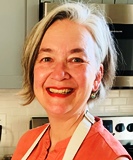 Kim O'Donnel has spent the past 25 years working with food as a chef, journalist, and teacher. A former resident of Seattle, she now lives in Pennsylvania. Kim is the author of three cookbooks, including PNW Veg: 100 Vegetable Recipes Inspired by the Local Bounty of the Pacific Northwest. This past April, Kim went to Poland as a World Central Kitchen volunteer, cooking for Ukrainian refugees. Learn more about her at https://kimodonnel.substack.com/about.
Jancan:
This is an excellent poem--so descriptive, full of detailed praise for the tomato, entertaining, and creative. Now I have a "most urgent need for a BLT"!
Posted 07/24/2022 04:34 PM
KinVT:
That pretty much sums up the depth of ones love for the tomato! I couldnt agree more. Well done :)
Posted 07/23/2022 08:22 PM
propwriter:
The bane of the nightshades. There is no compare to the slice of a Jersey beefsteak. It is the stuff of dreams it doth make. But alas, the nightshades hold in their sway An inflammation of joints, to say, To say they cause pain is the palest of understatements this day. As delicious as they are, they can wreak mayhem Causing inflammation to those of them Who suffer from arthritis. My wish is that this was not the truth But my neurons court a different muse. Tomatoes, potatoes, eggplants and peppers Can cause dismay like that of lepers. I miss their taste, there's no denying But it's not worth the agony of crying In pain for a mere ingestion. I prithee, Lord, do I dare question This abhorrent curse upon my soul? That forbidden fruit would make me whole.
Posted 07/23/2022 06:35 PM
Wilda Morris:
Me, too!
Posted 07/23/2022 12:31 PM
Stephen Anderson:
Tis a deliciously devine poem, Kim!
Posted 07/23/2022 12:24 PM
Lori Levy:
Unique tomato sonnet.
Posted 07/23/2022 11:47 AM
Arlene Gay Levine:
This poem is delicious in all ways!
Posted 07/23/2022 11:10 AM
cork:
We have two gazpacho recipes open now on our kitchen table.
Posted 07/23/2022 10:42 AM
Larry Schug:
My dog ate our first big,juicy tomato right off the plant! Gotta keep him out of the garden. This poem is ripe with the joy of garden tomatoes after a winter of those tasteless orbs bought at the store throughout the winter.
Posted 07/23/2022 08:17 AM