Heavy air, wavy hair,
shirt sticking to my back
like a strait-jacket.
Feet feel leaden as if
weighed down by wet
woolen blankets.
†
Blue-black clouds over
densely forested ridge,
anger into the atmosphere.
Lightning jabs through black.
Cannon shot of thunder follows.
Sheets of gray stream down,
gutters overflow, heavy drops
ricochet off stone walkway.
Storm swallows voices, except
my screams at a crack of close
lightning.
†
Clouds move northward, rain
eases, cool follows. Champagne
†scent of clean air mixes with
earthís mushroom bouquet.


© by Norma Wightman.
Used with the authorís permission.
†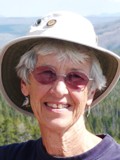 Norma Wightman lives in Morro Bay, California, where she walks the beach daily, leads nature hikes in local state parks, and enjoys yoga, kayaking, and birding around the beautiful central coast. Norma's poems†have appeared in local publications and art exhibits†and she has published chapbooks for family and friends. Her inspiration, she says, comes from†everyday items and nature.
†
Anastasia:
Excellent images and sensory descriptions!
Posted 08/13/2022 10:18 PM
Wilda Morris:
Good descriptions of a storm!
Posted 08/06/2022 08:38 AM
Sharon Waller Knutson:
Wow! I can see, hear, smell and feel this summer storm. So much unique imagery: Lightning jabs through black. Cannon shot of thunder follows. Storm swallows voices, except my screams at a crack of close lightning.
Posted 08/05/2022 06:26 PM
Lori Levy:
Very sensory.
Posted 08/05/2022 04:45 PM
KevinArnold:
Wonderful. All those absent Thes add to its power.
Posted 08/05/2022 09:31 AM
Joan Luther:
Worded like a painting.
Posted 08/05/2022 09:31 AM
Michael:
Visual, loud, soft, sensory . . . this poem is earthen atmosphere. Congratulations, Norma!
Posted 08/05/2022 09:08 AM
Larry Schug:
"Earth's mushroom bouquet" Oh, my!
Posted 08/05/2022 06:53 AM