San Jose del Cabo, Baja California, MX


As the ocean tumbles and crashes
I'm drawn to flecks of glittering gold
in the damp squish
of cotton candy sand
at my feet
 and to lacy fingers of foam
      silently spreading out
            while swiftly sinking in
                   to the softness
                          of fast fading shadows


© by Joan Kantor.
Used here with the author's permission.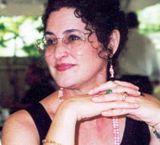 Joan Kantor lives with her husband in Collinsville, Connecticut. A college counselor and learning disabilities specialist for many years, Joan also has training in education and marriage and family therapy. Active in a number of poetry outreach efforts, she is a member of the International Academy for Poetry Therapy and collaborates with both visual artists and musicians in Stringing Words Together, an interactive program of poetry and violin music. Her most recent book is Filling in the Black: One Woman's Journey of Re-education (WovenWord Press).
Wilda Morris:
Beautifully expressed!
Posted 08/06/2022 08:40 AM
jentsch:
Very nice sounds and form!
Posted 08/04/2022 07:56 PM
Anastasia:
A perfect description! Thank you, Joan!
Posted 08/04/2022 07:37 PM
Janet Leahy:
"the softness of fast fading shadows" this is a beautiful line, lovely poem. Thanks Joan.
Posted 08/04/2022 04:49 PM
Lori Levy:
Love lacy fingers of foam.
Posted 08/04/2022 11:07 AM
paradea:
Lots of pleasing sounds!!
Posted 08/04/2022 09:37 AM
Michael:
This is so visual, full of sound, touch and gorgeous lyricism! Thank you, Joan.
Posted 08/04/2022 08:19 AM