Traipsing through the hinterlands of dream,
his staff/cudgel/dragon's bane poised
toward peril and adventure,

he weighs horizons with eagle eyes,
his feet in sync with his drum-beat heart,
the world his toy and testing ground.

Has anyone encountered his like?
Fierce yet tender, befriender of puppies and ants,
a trickster with wings on his heels.

Indulge him. Leave him room to roam.
He heeds a call you cannot hear.
Determined, destined, right's ready paladin,

he travels far yet knows where home lies,
returns scuffed and bruised to recount
fantastical tales of derring-do—and eat,

hungry from the road's hard demands.
Greet him with fanfares, earnest embraces:
his leave from the waiting world so brief.


© by Darrell Petska.
Used with the author's permission.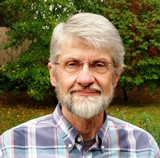 Darrell Petska is retired from a 30-year career as publication editor for the University of Wisconsin College of Engineering. He also spent time doing psychiatric casework and nursing home social work; through it all, he has written poetry. His work—which includes fiction as well as poetry—has been widely published. Father of five and grandfather of six, Darrell lives in Middleton, Wisconsin with his wife of more than 50 years. Learn more about him at conservancies.wordpress.com.
KinVT:
Indeed! says the mother of two sons who were lucky enough to grow up playing with lots of sticks in the woods of Vermont. And today are fine young men. Coincidence?? Hmmmm. Such a poignant reminder of the value of imagination. My wish is that boys & girlstoday are pushed out the door to search for & discover such adventures -& themselves. My fear is that too few of todays children are allowed such freedoms. The freedom of just plain being without a pre planned daily schedule of supervised activities only interrupted by continuous time in front of computer & tv & hand held phone screens. In this situation, less -truly-is more.
Posted 08/14/2022 01:00 PM
Wilda Morris:
Children learn so much from play and imagination. What a good reminder.
Posted 08/09/2022 10:07 AM
Lori Levy:
Great portrayal of a boy who is fierce yet tender.
Posted 08/08/2022 08:46 PM
Arlene Gay Levine:
Beautiful and touching...a great tale of told in in 5 stanzas worthy of a bard!
Posted 08/08/2022 11:59 AM
paradea:
So brief!! Indulge yourself!! Like this poem!!
Posted 08/08/2022 11:54 AM
Michael:
This poem resonates with my own boyhood and adventures I relive in my "adult" dreams. Nicely done, Darrell.
Posted 08/08/2022 09:35 AM
cork:
Life is an adventure and some of us carry the stick into old age.
Posted 08/08/2022 09:04 AM
Darrell Arnold:
We men were all that lad, once. A thoughtful reminder. A welcome and pleasant memory maker. Nicely done.
Posted 08/08/2022 08:38 AM
Larry Schug:
Often, the imaginative are labeled as weird or strange, out of touch with reality, though they are exactly the people we have always needed. They could be called the visionary. Indeed, greet him (them) with fanfare. Gotta love poetry, eh?
Posted 08/08/2022 07:15 AM