Good books are friendly things to own.
If you are busy they will wait.
They will not call you on the phone
Or wake you if the hour is late.
They stand together row by row,
Upon the low shelf or the high.
But if you're lonesome this you know:
You have a friend or two nearby.

The fellowship of books is real.
They're never noisy when you're still.
They won't disturb you at your meal.
They'll comfort you when you are ill.
The lonesome hours they'll always share.
When slighted they will not complain.
And though for them you've ceased to care
Your constant friends they'll still remain.

Good books your faults will never see
Or tell about them round the town.
If you would have their company
You merely have to take them down.
They'll help you pass the time away,
They'll counsel give if that you need.
He has true friends for night and day
Who has a few good books to read.


This poem is in the public domain.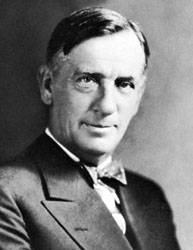 Edgar Guest (1881 - 1959) was born in England, but moved with his family to Detroit, Michigan, when he was ten years old. He worked for more than sixty years at the Detroit Free Press, publishing his first poem at the age of seventeen, then going on to become a reporter and columnist whose work was featured in hundreds of newspapers around the country. Edgar is said to have written some 11,000 poems during his lifetime, most of it sentimental, short, upbeat verse. Critics often derided his work, but America adored him. He was known as the "People's Poet," served as Michigan's poet laureate, hosted a long-running radio show and TV show, and published more than twenty books.
Anastasia:
Books are friends, companions, consolers, entertainersthey are everything!
Posted 08/11/2022 07:40 PM
mail@schoolbusmart.com:
Reading Guest's work is always a pleasure. Thanks, Ms. Ferrer.
Posted 08/09/2022 05:40 PM
CamilleBalla:
Thanks for this. Books also add coziness to a room. A designer told me that many years ago and I began acquiring books - some have become good friends.
Posted 08/09/2022 10:35 AM
KevinArnold:
Ah, Edgar Guest . . . interesting chap.
Posted 08/09/2022 10:33 AM
Wilda Morris:
A good one!
Posted 08/09/2022 10:06 AM
cork:
I grew up with Edgar's poetry in Detroit, and he has always been my inspiration.
Posted 08/09/2022 09:41 AM
Darrell Arnold:
About a year ago, I was blessed to find a 1947, 12th edition, hardcopy printing of COLLECTED VERSE OF EDGAR GUEST. What an amazing talent! He must have thought in rhymes and written them all down. It's hard copies for me, too, in my hands and turning pages.
Posted 08/09/2022 08:54 AM
Joan Luther:
And what a great escape they offer!
Posted 08/09/2022 08:06 AM