August nights can be sweltering affairs.
Summer heat this time of year
can stew, stagnant and stale, dank
as the vegetables grown ripe too early
in gardens that once seemed lively and lush,
now listless and lank in the sultry air.

The month has the feel of compromise
and yield, as we mark time in a steady march
to the inevitable surrender of fall.
But that moon!
Bright as a bauble
dangling from a necklace of stars,
it hangs overhead like a trophy sturgeon
in the cool depths of sky, awaiting its waning
in glorious gold, igniting dreams once more
of life treasured, of bounty restored.


© by Mike Orlock.
Used with the authorís permission.
†
†
†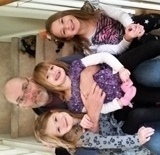 Mike Orlock is a retired high school English and American History teacher who divides his time between the Chicago suburbs and a vacation home in Sturgeon Bay, Wisconsin. He has been married for 46 years to his high school sweetheart and inspiration, Liz, and greatly enjoys being grandfather to five beautiful granddaughters who keep him, he says, "jumping like a frog on a hot skillet." Mike's short stories, poems, and reviews have appeared in a variety of publications and he has just been named Poet Laureate of Door County, Wisconsin, a position he will hold for the next two years. Mike's latest book is Con/Verse/Sations, released last fall.
Jancan:
This wonderful poem made me smile--with its appealing blend of literal and figurative descriptions!
Posted 08/12/2022 09:25 AM
Jan Chronister:
Lovely, Mike. Filled me up.
Posted 08/12/2022 08:28 AM
Joan Luther:
Yes! dangling from a necklace of stars is magical! Anastasia, you took the ink right out of my pen
Posted 08/11/2022 04:19 PM
Anastasia:
"dangling from a necklace of stars" - that line made my catch my breath!
Posted 08/11/2022 02:19 PM
TheSilverOne:
Beautiful, memorable poem~~~Doris Bezio
Posted 08/11/2022 01:03 PM
Lori Levy:
Like the contrast between the first and second stanzas. Beautiful images.
Posted 08/11/2022 12:40 PM
Wilda Morris:
Beautifully descriptive poem. Last night my husband remarked that it was hard to believe the moon wasn't quite full yet. It was spectacular.
Posted 08/11/2022 09:28 AM
Sharon Waller Knutson:
I love Mike Orlock poems. He does the sturgeon moon justice with this beautiful and unique description: "Bright as a bauble dangling from a necklace of stars, it hangs overhead like a trophy sturgeon in the cool depths of sky."
Posted 08/11/2022 09:25 AM
Michael:
From this poem, little wonder that you have been named Poet Laurette of Door Country. Trophy poem!!
Posted 08/11/2022 08:27 AM
KevinArnold:
Wonderful, all the competing emotions around the season and the unusually-bright moon.
Posted 08/11/2022 07:05 AM