Here's the thing about the moon:  
It's all we have.
 
Just one moon, "the" moon, our moon.
No need to name it. Just "Moon."  
 
Mercury and Venus have no moons. Mars has two.
Jupiter, as befits the king of the planets, has 67.
 
One's enough, I think. One is just right.
No odious comparisons, no playing favorites,
 
No rank ordering in terms of brightness,
Regularity of orbit, spherical shape.
 
Just keeping each other company –
After all, there's no one else.
 
One planet, one moon. One moon, one planet,
Growing old together in the sky.


© by Claudia Mills.
Used with the author's permission.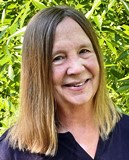 Photo credit: Laura Roettiger
Claudia Mills is the author of more than sixty books for young readers, most recently The Lost Language, a verse novel for middle-grade readers about two sixth-grade best friends who are trying to save an endangered language and, in the process, to save their endangered friendship. She lives at the base of the Rocky Mountains in Boulder, Colorado, with her dog, Tanky. Learn more about Claudia at www.claudiamillsauthor.com.


edulemba:
LOVE this!!! xoxo Dr. e
Posted 08/21/2022 08:50 AM
Linnea.Borealis@gmail.c:
Perfect!
Posted 08/13/2022 10:49 AM
Anastasia:
A perfect pairing, which I'd never thought of until now. Thank you, Claudia!
Posted 08/12/2022 11:21 PM
Jo:
I like this very much.
Posted 08/12/2022 01:21 PM
Lori Levy:
Original. I like it!
Posted 08/12/2022 11:36 AM
peninsulapoet:
Lovely poem.
Posted 08/12/2022 10:07 AM
Jancan:
Lovely, moving piece that makes excellent literal and figurative use of the moon
Posted 08/12/2022 09:23 AM
Angela:
growing old together! love that
Posted 08/12/2022 09:16 AM
Wilda Morris:
Yes, one is enough!
Posted 08/12/2022 09:02 AM
Michael:
Wonderful take, original and winsome. Fine poem, Claudia.
Posted 08/12/2022 08:27 AM