As the morning evaporates into clouds reaching for sunshine,
A bird swoops to rescue a worm from the stained dirt.

When the sweetness of jam rests on my fresh roll, a pool of melting butter
Lays on the plate with a smile, begging for a taste of my tongue.

In a moment, a jet overhead and beyond, travels with a trail that
Beckons my hazel eyes as my stockinged feet follow

Into the forest of my imagination with southern waterfalls
And drifting leaves that float and swirl in their warmth,

Along the stream of yesterdays into a cupping pond of my
Tomorrows and living in the moments of this pausing sip.


© by Joan Luther.
Used with the authorís permission.
†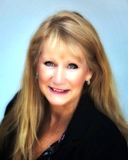 Joan Luther lives in Illinois, where she enjoys writing, painting, and photography. A descendent of Martin Luther, she is the mother of two grown children, has provided foster care for dogs for many years, sings in her church choir, and enjoyed a corporate career selling telecommunication services and equipment. Tired of cold weather, Joan plans to move south in the near future. In the meantime, she stays busy hiking in search of 4, 5, and 6-leaf clovers.
†
†
Jancan:
Very appealing imagery and vivid descriptions
Posted 08/14/2022 09:10 PM
Lori Levy:
Great images.
Posted 08/14/2022 03:08 PM
paradea:
Come on down!!! Lots of good poets in the South!
Posted 08/14/2022 12:34 PM
Michael:
Truly restive and imaginative Joan. Coming over for a fresh roll with butter & jam!
Posted 08/14/2022 08:42 AM
Larry Schug:
Before I read this poem I read "summer Wind" by William Cullen Bryant on another website. Joan's poem seemed to seamlessly be a continuation of Bryant's. This last couplet is truly beautiful.
Posted 08/14/2022 08:10 AM
Wilda Morris:
"Into the forest of my imagination." What a beautiful phrase! I'm in that forest with you, Joan.
Posted 08/14/2022 07:38 AM