There are certain bits of knowledge
which a woman must possess—
random tips and sundry tidbits
which I feel I must address.
So, in no specific order,
I've prepared for you this list.
(Keep it handy, dear, in case there are
some things I might have missed.)

One should always have a tissue.
One should always have clean feet.
One need not spend lots on clothing,
but one always must be neat.

Promptly send your thank-you notes.
Promptly pay your bills.
Promptly flush and wash your hands.
Promptly wipe up spills.

Get your oil changed faithfully.
Don't play with your hair.
Don't talk if food is in your mouth.
Be sure to pay your share.

If you get an invitation
that is marked "R.S.V.P.",
Make certain you respond!
(Yes, this one is my pet peeve!)

And should you start to wonder
if these rules fit current trend,
just remember: on Grandma's advice,
you always can depend!


A slightly different version of this poem appears in Dancing with My Daughter (Loyola Press, 2004).
Used here with permission.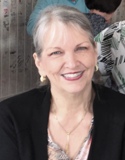 Jayne Jaudon Ferrer is the author of five books of poetry, a nonfiction book about games, and a novel, Hayley and the Hot Flashes. Jayne created www.YourDailyPoem.com in 2009 to share the pleasure and diversity of poetry. A former copywriter, magazine editor, newspaper columnist, and freelance journalist, her work has appeared in hundreds of publications. When not writing or reading, Jayne enjoys music, old movies, gardening, hiking, and good conversation. A native Floridian, she has lived in Greenville, South Carolina, for the past 28 years. Learn more about her at www.jaynejaudonferrer.com.
Anastasia:
All excellent bits of advice! I hope she heeds them!
Posted 08/18/2022 02:54 PM
jayne:
Thanks for all the lovely validations that good manners and common sense still matter!
Posted 08/17/2022 08:35 PM
Adriana:
Per Larry below: Why can't these tips apply equally to men ??? In any case, lots of fun, Jayne. Not RSVP ing is my pet peeve also...
Posted 08/17/2022 06:40 PM
Lori Levy:
Love seeing your poems, Jayne. Funny about the tissueI always have one in my pocket. Great advice to pass on.
Posted 08/17/2022 11:45 AM
pwax:
Lovely. It will become an heirloom.
Posted 08/17/2022 11:24 AM
CamilleBalla:
A nice bouncy poem passing on good advice to your granddaughter that she will have forever, and reminding us too gotta get the oil changed!
Posted 08/17/2022 10:59 AM
Surprise Reading Teacher:
Absolutely lovely! On Grandma's advice you can depend.
Posted 08/17/2022 10:58 AM
mail@schoolbusmart.com:
Love it. Written in a grand tradition. With wit, aplomb, and intuituion. Your adversity to pretermission will greatly assist her throughout life's mission. Randy Mazie
Posted 08/17/2022 10:17 AM
Janet Leahy:
Words of wisdom wrapped in a poem, lovely, thanks Jayne.
Posted 08/17/2022 09:48 AM
Michael:
These rules still apply and/or should! Nicely done, Jayne.
Posted 08/17/2022 09:27 AM
Angela:
So lovely to hear one of your poems. I think we all need mentors in our life! It is a precious gift!
Posted 08/17/2022 08:58 AM
SuthunBelle:
Love it. Thanks so much!!!
Posted 08/17/2022 08:51 AM
Darrell Arnold:
What a terrific birthday present! That child will treasure it forever, and perhaps even pack it around in her memory. Of course it will be passed on to subsequent generations. Further, one can't help but think of other verses to add. How fun!
Posted 08/17/2022 08:50 AM
Larry Schug:
I thin folks remember poems that rhyme and somehow, the message more readily sinks in. I hope someone (me?) presents us with a man version.
Posted 08/17/2022 08:48 AM
Wilda Morris:
Excellent advice! Good use of rhyme and meter!
Posted 08/17/2022 08:43 AM
peninsulapoet:
Good advice!
Posted 08/17/2022 08:26 AM
Joan Luther:
Wisdom offered at any age is gently parted with as a gift. Very wise words here in a fun, rhythmic way!
Posted 08/17/2022 06:51 AM