The clouds are low as a blanket.
Even the air is tangible,
and the steam from the kettle
thickens the air like wool.
Harvest is full on us; the pressure
to preserve builds like a thunderhead.
 
Shelling peas is fun at first,
slitting open the perfect pods,
working in rhythm to the pelter
of peas ringing in the pot.
But then our arms and shoulders ache,
the seeds rattle, hollow as bones,
and though we should rejoice,
another bushel groans before us.
 
But there in the blancher,
the new peas shine
fresh and wet, green
as emeralds; summer's sweetness,
to be shelved with the long ripe days,
eaten with relish, as the butter
and juice run in our mouths
rare as dandelion wine.


This poem first appeared in Organic Gardening (1981).
Used here with permission.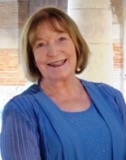 Barbara Crooker's award-winning poems have appeared in numerous magazines, journals, and anthologies and have been featured on the BBC, the ABC (Australian Broadcasting Company), The Writer's Almanac, and in the Poetry at Noon series at the Library of Congress. Recipient of many fellowships and residencies in the U.S., as well as in Ireland and France, she was also a Grammy finalist for her part in the audio version of the popular anthology, Grow Old Along with Me--the Best is Yet to Be. Barbara lives in Fogelsville, Pennsylvania; her latest book is Some Glad Morning, just released from the University of Pittsburgh Press. Learn more about Barbara at www.barbaracrooker.com.
Anastasia:
So much workbut such delicious results!
Posted 08/18/2022 07:03 PM
Lori Levy:
Dont do those things, but love this poem!
Posted 08/16/2022 12:46 PM
joecot:
Barbara Crooker is a national treasure.
Posted 08/16/2022 12:30 PM
CamilleBalla:
Wow, not a wasted word and though I dont preserve or can, you have taken me there another bushel that groans, and I stay to sense the joy of the rewards. Beautiful poem! Thanks.
Posted 08/16/2022 11:17 AM
Michael:
Wonderful to hear all those sounds when the peas "pelter . . . ringing in the pot." Nicely done, Barbara!
Posted 08/16/2022 10:18 AM
KevinArnold:
I liked: summer's sweetness, to be shelved with the long ripe days, eaten with relish . . .
Posted 08/16/2022 10:03 AM
cork:
Peas porridge hot....
Posted 08/16/2022 09:38 AM
Nabby Dog:
This lovely poem is a celebration of the beauty of nature and its sustaining, nourishing joy in our lives. What a delicious way to start the day!
Posted 08/16/2022 07:53 AM
Larry Schug:
Wonderful, beautiful, marvelous! And the poem ain't bad, either. I like the honesty of acknowledgment of "though we should rejoice, another groans before us".
Posted 08/16/2022 07:46 AM