"...the most beautiful things...are the most
†useless; peacocks and lilies, for example."
†††††††††††††††††† † † † † † † † † † † † † † † † -- John Ruskin


Juno's bird displays a hundred eyes,
staring from its iridescent plumes.
Its high-pitched screams assault the lowered skies
the hours it paces decorated rooms.
The male displays himself; he struts and preens,
shakes his crown, and shows his thorny spurs.
The fiber-end of feathers, gold and greens,
acidic red, and blue that pulses, lures
the hen, more simply colored brown or grey.
No pigment makes this flash, but angled light,
refracted by the barbules on display.
Its deathlessness makes day from deepest night.
The peacock, soul and body in collision,
becomes for us the beatific vision.


© by Royal Rhodes.
Used here with the authorís permission.
†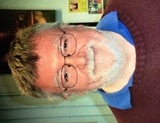 Royal Rhodes lives in Gambier, Ohio. A professor of Religious Studies at Kenyon College, he is the author of four books and recently began writing poetry again after many years. Having spent a lifetime studying ancient Greek and Roman poetry, Royal often looks to those sources for inspiration in writing about life, nature, and love. He recently participated in two art/poetry exhibitions, The Art of Trees and Specimens & Reflections. Learn more about him at https://www.kenyon.edu/directory/roy-rhodes/.
†††
†
Wilda Morris:
So vivid! Thank you for sharing!
Posted 08/29/2022 10:10 AM
Anastasia:
A vivid description of a beautiful bird! But oh, how they do scream. We were at Leeds Castle in England, which has a resident group of peafowl, as well as many waterbirds. One of the peacocks was strutting about, screeching, until one of the swans rose up out of the water and hissed at it. The peacock suddenly decided he had urgent business to attend to away from the water's edge!
Posted 08/26/2022 01:47 PM
Jo:
A portrait of a peacock was fun and interesting to read. I liked the Ruskin quote as well.
Posted 08/26/2022 01:41 PM
Sharon Waller Knutson:
Love this picturesque peacock poem. A peacock named Romeo ran away from home and perched on my picnic bench for a few days and these images describe him: "iridescent plumes, high-pitched screams, struts and preens, shakes his crown, and shows his thorny spurs."
Posted 08/26/2022 01:15 PM
Lori Levy:
Great portrayal of peacock. Especially like the line, Its high-pitched screams assault the lowered skies.
Posted 08/26/2022 12:44 PM
paradea:
Good one!!
Posted 08/26/2022 12:32 PM
Arlene Gay Levine:
Along with the vivid descriptions, much to muse on herethese are the lines that caught me: "Its deathlessness makes day from deepest night. The peacock, soul and body in collision, becomes for us the beatific vision."
Posted 08/26/2022 11:34 AM
KevinArnold:
Wonderful use of 'beatific.' Wonderful Ruskin quote. The poem marks the difference between the two.
Posted 08/26/2022 10:09 AM