I am a member of the un-coloured race
Inaccurately called white.
We're not really white…a kind of unlit beige ,
Like wartime rayon stockings folded
In a box.

The women of our race 'make up'
For what nature failed to give us:  
Cheeks more pink, brows more black,
Lips more red…
We colour within the lines.

As long as it makes any difference,
Some of us keep coloring…  
Much longer.
If someone tells us to stop,
We may not hear them.


From Swimming Lessons (Cyberwit, 2022).
Used here with permission.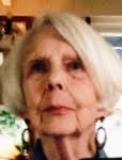 Maryalicia Post grew up in New York City, but has lived most of her life in Dublin, Ireland. She retired this year--at 94--from a 70-year career as a journalist. Primarily a travel writer for the last 30 of those years, Maryalicia also did stints as an advertising copywriter, medical editor, book author, and poet. When she wasn't writing, Maryalicia often made time for cross-country horseback riding. Currently, her website, https://maryaliciapost.com/, archives articles about favorite destinations, ranging (literally!) from the Arctic Circle to Zanzibar. 

Wilda Morris:
The phrase "uncolored race" is good! And how we add color! Thank you for this poem.
Posted 08/29/2022 10:07 AM
Lori Levy:
Unique perspective.
Posted 08/27/2022 11:57 PM
Jancan:
As a fellow member of the "un-colored race," I appreciate this clever poem!
Posted 08/27/2022 03:36 PM
Sharon Waller Knutson:
I love this witty, wise, unique poem. My favorite lines were: Like wartime rayon stockings folded In a box. We colour within the lines. If someone tells us to stop, We may not hear them.
Posted 08/27/2022 01:55 PM
cork:
I will reconsider the term "white" as a racial category along with red, brown, and black. Slainte.
Posted 08/27/2022 09:49 AM
Michael:
Truer words were never written, Maryalicia!
Posted 08/27/2022 08:42 AM
Joan Luther:
The design of her words encourages me to reflect on what nature provides..with my girly lipstick on.
Posted 08/27/2022 08:41 AM
Larry Schug:
Interesting. As a typical clueless male, I'll have to think about this. That fact makes this poem successful. Well done.
Posted 08/27/2022 08:13 AM