Home from the office,
my father pulls off his tie,
slides into his boots,
heads out the door
to climb the big machine.
He steers the rusty tractor
in plowing concentration,
tillers at the back.
The rows are straight,
except at each end, curved
by the turn of the wheel.
The brake set, he jumps down
into the just-tilled soil,
walks the first row, stoops,
reaches a hand into his pocket
and drops the first kernel
into the loamy earth, then,
scans the sky for rain.


© by Tere Sievers.
Used with the author's permission.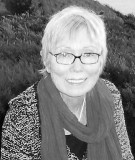 For Tere Sievers, as a New Jersey transplant, it took a while to embrace the subtle seasons of Southern California. A long marriage to a native Californian, two daughters, and three grandchildren, though, have set deep roots for her in Long Beach. Author of Striking Distance, a chapbook published by Arroyo Seco Press, Tere says, "Writing poetry has helped me understand loss and the passage of time."
Anastasia:
An ordinary, yet sacred, moment, wonderfully captured. Thank you, Tere!
Posted 09/03/2022 02:25 PM
Lori Levy:
Beautifully expressed.
Posted 08/30/2022 01:55 PM
paradea:
Great poem!!
Posted 08/30/2022 11:57 AM
peninsulapoet:
Beautiful poem to begin the day.
Posted 08/30/2022 10:45 AM
RonPoems:
Wonderful metaphor and memory. A fine poem.
Posted 08/30/2022 09:22 AM
Michael:
Man, machine, earth . . . cut from the same cloth! Nicely done, Tere.
Posted 08/30/2022 09:13 AM
KevinArnold:
Interesting how a ICE tractor is somehow nature.
Posted 08/30/2022 08:56 AM
Larry Schug:
A ritual that has been ongoing for thousands of years, without the necktie and tractor of course, but looking to the loam and sky may have been the most important of all human gestures, still ingrained in us.
Posted 08/30/2022 07:57 AM
bbatcher:
Perfect title for a great poem.
Posted 08/30/2022 07:16 AM
mail@schoolbusmart.com:
Don't we all set the brake, drop that first kernel, and search the sky for rain. Nice work. I can relate in my own way. Randy
Posted 08/30/2022 05:43 AM