Marching single-file
toward the rising sun,
we enter the battlefield;
the cotton patch.

Our mission: rescue
the nascent crop from
besieging cockle-burrs,
sawgrass and morning glories.

We wield our hoes like pikes;
slashing swaths through
the wretched weeds,

Until the victorious cotton
stands alone, free to
flaunt its niveous bolls
come autumn harvest.


© by Tom Hooker.
Used here with the authorís permission.
†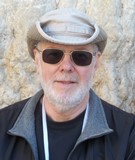 Tom Hooker was born and raised in North Mississippi, where he received a degree from the University of Mississippi. He and his family have lived in Hendersonville, North Carolina since 1988. Tom has had short stories and poems published in a number of literary journals. He is the author of Twenty-Five Angels, and he and Gary Ader co-authored a novel entitled The War Never Ends. Tom's newest novel is Year of the White Dog.
CamilleBalla:
Interesting and very well-crafted poem. It adds its own texture to how I will look at cotton. Thank you.
Posted 08/29/2022 12:13 PM
Wilda Morris:
Yes, "the wretched weeds"!!
Posted 08/29/2022 10:02 AM
Lori Levy:
Ive never chopped cotton, but this poem makes me feel like Im there, chopping cotton.
Posted 08/29/2022 08:56 AM